Friday Five: Roundabouts, new webcams and a ramp closure in Surprise
Friday Five: Roundabouts, new webcams and a ramp closure in Surprise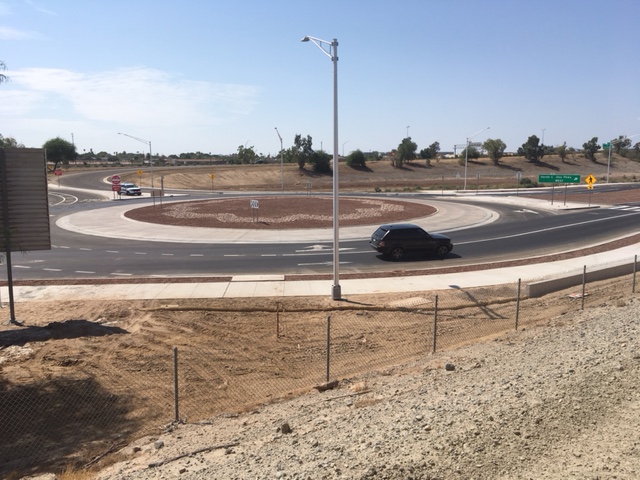 By Caroline Carpenter / ADOT Communications
It was a short work week for most, but at ADOT we're working 24/7 to keep drivers moving across the state. In our Friday Five, we'll show you what we've been up to this week. Remember to follow the #FridayFive hashtag on social media to see what others are sharing today.
1. The Yuma area's first modern roundabout opened to traffic at Giss Parkway and Interstate 8! Check out the photo above showing the roundabout. The final touches are still being put on the $2.5 million project and the work is expected to be completed this fall. Modern roundabouts have many benefits including a dramatic reduction in fatal crashes and a marked increase in traffic capacity. This ADOT video has tips on navigating a roundabout.
2. East Valley drivers and Maricopa residents can get a good look at their commutes from new traffic camera views recently added to az511.gov. Cameras at nine intersections along SR 347 are now online. On the Loop 202 Santan Freeway, the new camera views are between Chandler and Gilbert. ADOT maintains more than 300 traffic cameras across the state and is constantly adding more and upgrading old cameras to high-definition cameras.
3. The photos above show crews paving I-40 west of Flagstaff between Parks and Riordan. Drivers should expect delays because the road is down to one lane in each direction. The good news is base paving should be complete before winter, with the final surface paving done by spring 2018.
4. We shared this webcam photo from the Hualapai Valley Observatory on Monday. You may have heard we're always looking for good webcams. Not only can you see cool shots from the comfort of your home, but you can get a good idea of weather conditions before you leave the house. The Hualapai Valley Observatory is a private dark sky site for astronomical observations and has several online webcams.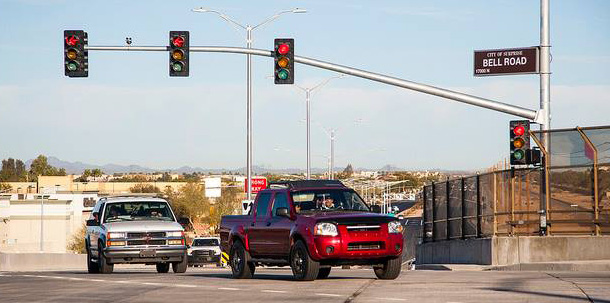 5. Last, but definitely not least, is a notable closure. The Bell Road/Grand Avenue ramps will be closed to all traffic Sept. 18-24 for roadway improvements. The ramps will close from 1 a.m. Monday, Sept. 18, to 5 p.m. Sunday, Sept. 24. Motorists may use detour routes along Dysart and Litchfield roads.