Pecos Road to be closed intermittently for South Mountain Freeway rock removal
Controlled rock blasting to begin next week near Desert Foothills Parkway
September 6, 2017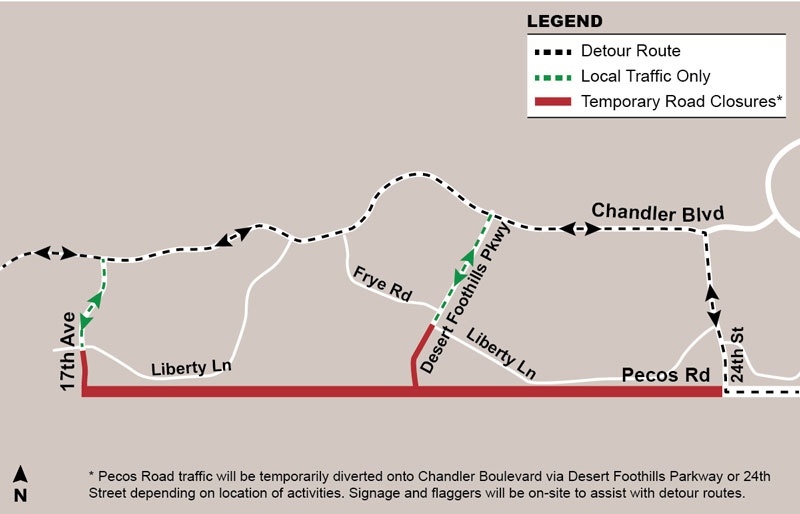 PHOENIX – Pecos Road traffic between 17th Avenue and 24th Street in the Ahwatukee Foothills will be briefly detoured to Chandler Boulevard when controlled rock blasting for the Loop 202 South Mountain Freeway project begins Tuesday, Sept. 12.
Periodic closures of Pecos Road are expected to last approximately 30 minutes, as crews need to secure and clear the area. There will be no more than one closure per day, and the work will comply with safety standards established by the city of Phoenix and the U.S. Bureau of Mines.
During these restrictions:
Pecos Road traffic will be temporarily diverted to Chandler Boulevard via 24th Street or Desert Foothills Parkway, depending on where the work is located.
Desert Foothills Parkway and 17th Avenue may be restricted to local traffic only.
Chandler Boulevard is the alternate route.
To avoid peak travel times, temporary closures of Pecos Road will be limited to weekdays during midday hours (9 a.m.-3 p.m.) through mid-2018.
Message boards in the area will provide advance notice of any traffic restrictions.
The 22-mile South Mountain Freeway, expected to open by late 2019, will provide a long-planned direct link between the East Valley and West Valley and a much-needed alternative to I-10 through downtown Phoenix. Approved by Maricopa County voters in 1985 and again in 2004 as part of a comprehensive regional transportation plan, the South Mountain Freeway will complete the Loop 202 and Loop 101 freeway system in the Valley.
For more information on controlled rock blasting, visit SouthMountainFreeway.com/Pecos.