Friday Five: With skidding cars and smashed melons, we look back through the years
Friday Five: With skidding cars and smashed melons, we look back through the years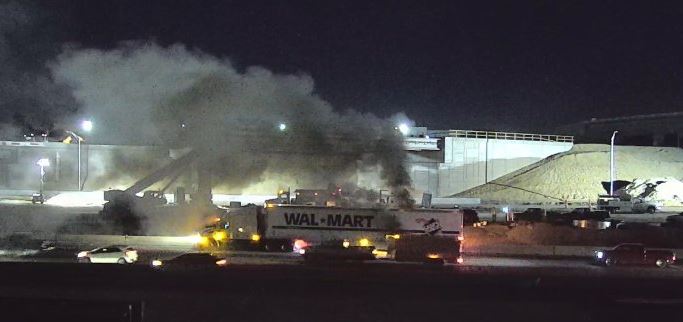 By David Woodfill / ADOT Communications
In this #FridayFive, we're talking about skidding cars (on purpose), crazy dust storms, smashed melons and more. Don't forget to follow the hashtag #FridayFive on social media to see what others are sharing from their week.
1. We're kicking off this week's #FridayFive with smashed melons, as shown above.
I know what some of you must be thinking: "Gallagher was in town and I missed the show?"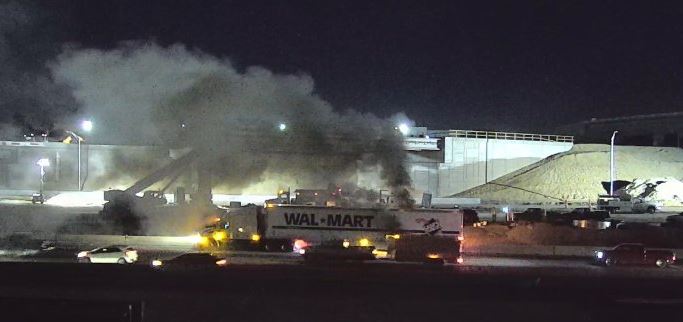 No, the photo was taken five years ago when a truck dumped a load of rotten fruit all over the Deck Park Tunnel in Phoenix.
Read on the ADOT Blog how crews with heavy equipment scooped up the mushy mess, hosed down the highway and dealt with a damaged tunnel wall.
2. Many of our Twitter and Facebook followers responded to traffic camera pictures of Thursday night's truck fire on I-10 in west Phoenix. Luckily, firefighters were able to make quick work of the blaze so traffic could get moving again.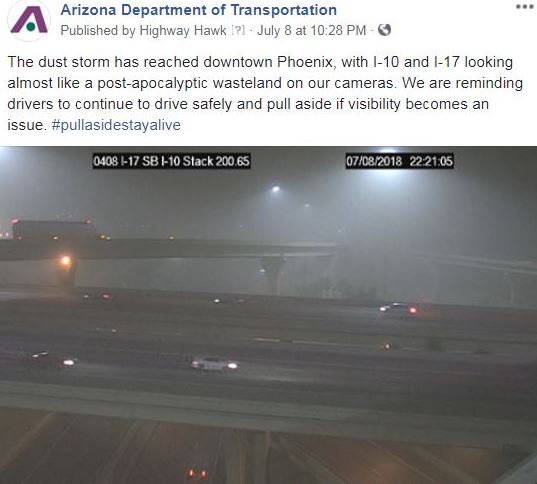 3. On Monday, the state saw a behemoth of a dust storm, with dust traveling from Arizona to California. While it lingered over the Valley, it created some dangerous and freaky-looking scenes on freeways.
This serves as another reminder to avoid driving in low visibility. When encountering dust, check for traffic around you, safely slow down, exit the roadway, turn off ALL lights, stay off the brake, remain buckled and wait for the storm to pass.
For more information, visit pullasidestayalive.org. Take some time with your loved ones to watch the video. It may save a life.
4. In Thursday's ADOT Blog, we looked back to a time when employees were encouraged to peel their wheels. All joking aside, it was serious research to test pavement friction, and it made Arizona's highways safer.
We tracked down David Allocco, the driver who did the testing with a specialized car outfitted with bald tires, a roll bar and a harness.
As Allocco put it: "We'd have a water truck that would wet down the road. Then, I'd get the car up to speed, put it in neutral and then you'd have to slam on the brakes as hard as you could with both feet."
These days we have more sophisticated technology to test road surfaces.
5. Finally, work on Interstate 40 chugs along as crews finished reconstructing a 5-mile stretch of the westbound lanes east of Williams. Soon, they will start working on the eastbound lanes between mileposts 167 and 172.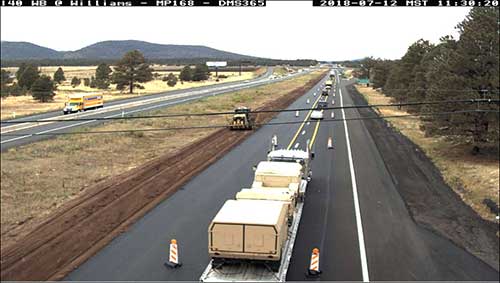 While improvements are expected to finish up by fall, motorists should expect delays in this area in order to accommodate the work. Learn more about the improvements and this milestone in our project update.