Gaming and driving don't mix
Gaming and driving don't mix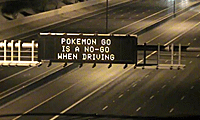 By Caroline Carpenter / ADOT Communications
You've heard you shouldn't drink and drive, but now we're telling you not to "catch and drive." Pokémon Go, the latest gaming craze, has people of all ages on the hunt for Pikachu and other Pokémon characters.
When the virtual world meets the real world, you need to remember to be street smart. That means, don't drive while playing Pokémon Go. ADOT has teamed up with the Arizona Department of Public Safety to remind drivers to game safely and avoid distracted driving.
We're getting the message out using overhead highway signs like the one pictured above and sharing the message on social media. We hope you'll also share the message with your fans and followers.
We also appreciate the media helping spread the word that Pokemon and driving don't go together.
Distracted driving is a serious problem across the nation and contributed to 33 deaths on Arizona's roads last year. In 2015, it was also a factor in nearly 8,000 crashes in our state.