Geofences are key to making the ADOT Alerts app work for you
Geofences are key to making the ADOT Alerts app work for you
By Steve Elliott / ADOT Communications
Late Monday night, a crash closed westbound lanes of the Loop 202 Red Mountain Freeway in Tempe. In addition to sharing that information in other ways, including ADOT Twitter, a public information officer sent an alert so those with the ADOT Alerts smartphone app would get the information in the area most directly affected by the closure – mostly along Loop 202 but also along stretches of the Loop 101 Pima and Price freeways.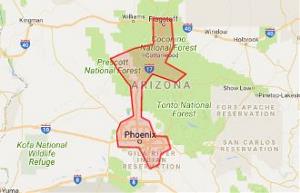 Last Thursday, with afternoon rush hour starting, a crash closed northbound lanes of I-17 near Cordes Junction. The alert in this case went to a much wider area, including most of the Valley as well as Prescott, the Verde Valley and even Flagstaff.
So why do some alerts go to much wider areas and some to narrower areas? And why does a crash causing a backup during rush hour in the Valley not result in an alert while an off-hours closure leads to an alert?
I'll share some guidelines we're using as well as ways you can customize the app so you receive alerts for areas you aren't in and know how to adjust hours when your phone won't ping with an alert. But in the interest of transparency, I'll start by saying that every highway closure and traffic tie-up is different and those who make the ADOT Alerts app work, including yours truly, are learning and making improvements as we go. Starting off, we erred toward sending alerts to very large areas. Now, many alerts are going to much more targeted areas.
Let's start with closures versus traffic backups. In general, we use the ADOT Alerts app when a major highway is closed, when a major highway has a backup that's expected to persist and when a lesser-used highway has an unplanned closure in both directions that's expected to last for quite some time. We consider that sonar ping that comes with each alert a very big deal, so we're reserving it for the right situations and the right places, as defined by geofences that will vary by situation.
If a heavily used highway such as I-17 between Phoenix and Flagstaff or I-10 between Phoenix and Tucson is closed or has a major backup that's expected to persist, we will alert a large area, including places on expected alternate routes.
If a freeway in the Phoenix area is closed during rush hour, we will alert a very large area of the Valley because many people are affected. Outside of rush hour, if a freeway in the Phoenix area closes or has major delays that are expected to persist, we'll generally send the alert to a narrower area aligned with freeways.
If a lesser-used highway has an unplanned closure that's expected to be extended, we'll have a focused alert for that area, aiming to include decision points where drivers can take alternate routes. Here's the geofence map and alert text for a recent closure of State Route 95 in both directions between Quartzsite and Parker. Our goal in this situation: telling drivers that SR 72 was an alternate route.

The highlighted area in the map that comes with an alert (and appears when we post the alert to ADOT's Facebook page) shows the geofence we've set for the alert rather than the location or extent of the closure or other situation. The headlines and text with alerts provide locations and other critical information, so it's important to check those when you or a passenger can do so safely.
Now, if you want alerts for a particular area, even if you might not be within the geofence we create for an alert, hit Settings at lower right of the home screen and then Watched Locations. You can define locations there.
The app also has quiet hours defaulting to 11 p.m. to 6 a.m. You can change those (Settings > Alert Settings) so you only get pings during the hours you wish. You'll still get alerts without the sound during quiet hours.
The app supplements our current ways of communicating traffic conditions, especially ADOT's widely followed Twitter account, @ArizonaDOT,as well as ADOT's Facebook page at facebook.com/AZDOT. Leading into affected areas, we also share critical information via overhead message boards.
We're excited about the ADOT Alerts app hope you'll consider downloading it for iOS or Android by visiting ADOT Alerts. Like everything else we do at ADOT, we're committed to making the ADOT Alerts app as valuable as it can be for our customers.
You can learn more about the ADOT Alerts app in the video below.