Getting a closer look at the Loop 303
Getting a closer look at the Loop 303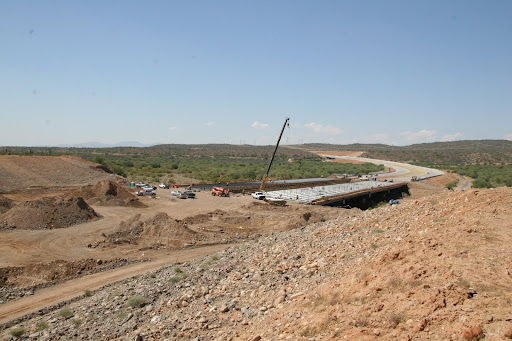 Wondering what to do Saturday morning?
How about taking ADOT up on the rare opportunity to walk, jog, skate or bike along the new segment of Loop 303 before it opens to traffic.
This week you've learned how the 14-mile stretch was landscaped, paved, checked for smoothness and even what's in store for its future … now is your chance to see the road up close.
The free open house and dedication event is Saturday, May 7, from 7 to 11 a.m., on the Loop 303. For parking, enter at the northbound Loop 303 on-ramp at Happy Valley Parkway (west of Lake Pleasant Parkway) in Peoria – volunteers will be on hand to direct drivers to the parking areas.
The event, which is hosted by ADOT, the city of Peoria and the Maricopa Association of Governments, is set to include a 9 a.m. ribbon-cutting ceremony featuring remarks from Governor Jan Brewer and local officials.
There also will be bike tours, booths and displays from local businesses and community groups and plenty of kids' activity areas – including a rock-climbing wall! Pets are welcome, too, as long as they're on a leash … just please be prepared to pick up after them.
And, remember it could get hot out there, so bring plenty of water, sunscreen and be sure to dress appropriately for the warm weather, that includes protecting your pet's paws if on hot pavement.
Hope to see you out there and don't forget to check out ADOT's Facebook page next week for photos of the event!
* Just a reminder … the road will not be open to vehicles immediately after Saturday's event. The entire 14-mile stretch of new freeway between Happy Valley Parkway is scheduled to open the week of May 9. 
Here are a few facts on the new portion of Loop 303:
Construction on the road began in February 2009.
The total construction cost for the project is $170 million – the primary funding source is a half-cent sales tax for transportation projects approved by Maricopa County voters in 2004 (Prop. 400).
The projected daily traffic volume is approximately 15,000 vehicles per day.
There are 18 bridges along the new stretch of freeway.
About 12 million pounds of reinforcing steel went into this project, along with 100,000 linear feet worth of pipes, 49,000 linear feet of concrete barrier and 187,000 square yards of concrete channel lining.
There are 122 poles installed for lighting and other uses.