Going somewhere? Message boards statewide say how long it will take
Going somewhere? Message boards statewide say how long it will take
By David Rookhuyzen / ADOT Communications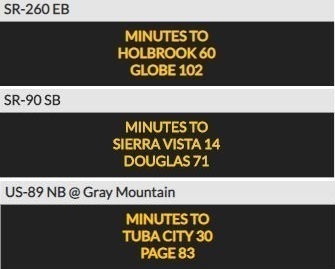 Over the past year we've announced that motorists along the interstates between Tucson and Flagstaff have been able to gauge how long their trips would take thanks to travel times displayed on ADOT's overhead digital message boards.
But what if you don't travel to Flagstaff or Tucson? What if, instead, you are heading up State Route 87 to get to Payson and onto Show Low? Or if you work in Lake Havasu City but live in Parker? 
Well, we have some good news. Now if you pass a digital message sign somehwere in the state, chances are it's going to show you how long it will take to get to where you are going. For example, a board at Heber will tell you it's a 50-minute drive to Holbrook, another on US 60 at Wickenburg will say it's 126 minutes to Kingman, while the board on SR 95 in Whetstone will let you know it's a 60-minute drive to Tucson. Of course, if you prefer taking an interstate, you'll also find travel times on the boards along I-8, I-15 and I-40.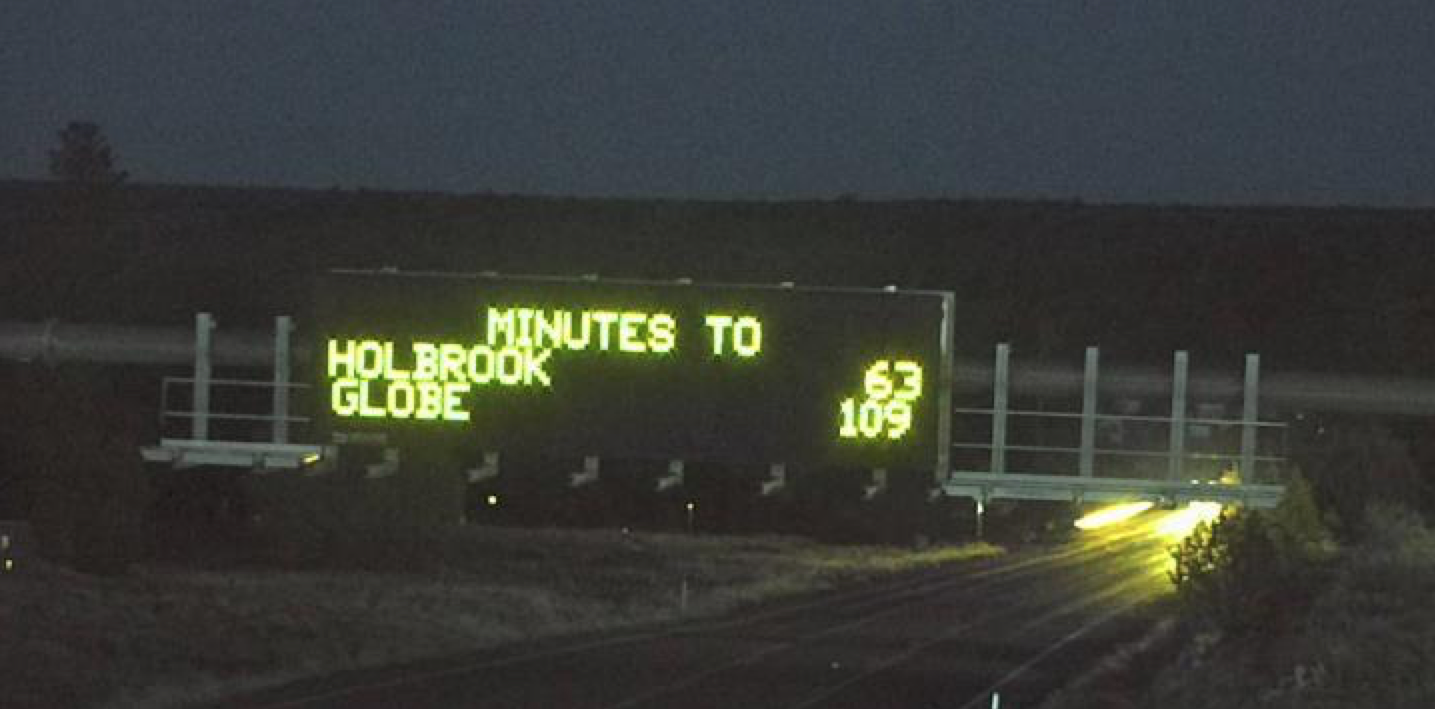 This is the lastest expansion phase for highway travel times. Phoenix-area drivers first starting seeing them in 2008, and they eventually were across all Valley freeways by 2014. For the past five years, travel times have been displayed on select message boards along I-10 and I-19 in the Tucson area. In 2018, ADOT started posting travel times along I-17, something we expanded to I-10 between Phoenix and Tucson last year.
Real-time data for the traffic times come from INRIX, a mobility analytics company that helps transportation agencies monitor, measure and manage traffic information. This is different from how travel times are estimated in the Valley, using ADOT's in-pavement traffic-flow sensors. ADOT designed a software application to automatically process INXRIX's data for use on the rest of the state highway system.
But ADOT doesn't display travel times just because its nifty informaiton to have. These travel times, in conjunction with the message board's warnings about crashes or closures ahead, can help motorists make informed decisions about the route they want to take. Also, since you can check our message boards on the AZ 511 Arizona Traveler Information site, you can even make those decisions before heading out on the road. 
So whether you are heading from Globe to Superior, Quartzsite to Wickenburg, or Yuma to Gila Bend, keep an eye out for this latest batch of helpful information.