Gonzales Pass earns environmental excellence award
Gonzales Pass earns environmental excellence award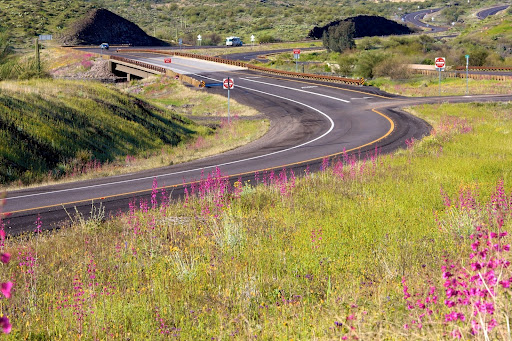 All the innovation and care that went into the US 60 Gonzales Pass project has really paid off.
Not only did the 10-mile stretch west of Superior transform from two lanes into a safer, more modern four-lane highway, but the project has just been awarded the President's Award in Valley Forward's 31st annual Environmental Excellence Awards program.
In addition to the President's Award – which was awarded Sept. 17 and is Valley Forward's top environmental honor – Gonzales Pass also earned a first-place Valley Forward award in the site development and landscape (public sector) category.
Valley Forward is an association that advocates for a balance between development and the environment. In addition to the annual Environmental Excellence Awards presentation, Valley Forward also conducts a yearly Livability Summit and EarthFest Educators Night.
About the Gonzales Pass project …
This project was one that had a few challenges. But, because of a great partnership, crews worked through those issues and opened the road in Oct. 2008 – eight months ahead of schedule and about $2.5 million under the $40 million budget.
The location of this section of US 60 between Florence Junction and Superior – a scenic and environmentally sensitive portion of the Tonto National Forest – compounded the challenges faced by the project team. Extraordinary care had to be taken in order to minimize the impact of the highway's construction.
Crews went to great lengths to control erosion, repair excavated areas and salvage and replant more than 18,000 cacti and other desert plants. In addition, the team constructed ramps connected to box and pipe culverts under the road to help wildlife, such as desert tortoises, to cross the highway safely. They also developed an innovative program to prevent storm water pollution by installing parallel roadway ditches and sediment-settling basins.
Valley Forward took note and has this to say about the efforts:
"The project team made environmental sensitivity a key priority in efforts to improve safety and capacity of the narrow, two-lane roadway by widening it to a four-lane facility."
Congratulations to the project team, which included employees from ADOT, Jacobs Engineering, Logan Simpson Design, Dibble Engineering, AECOM, Kiewit Construction, Saguaro Geoservices, Corral Dybas Group and the Tonto National Forest!
For details on some of the current statewide projects ADOT is working on, visit our Projects page.