Gov. Brewer, Mesa officials help ADOT dedicate SR 24
Gov. Brewer, Mesa officials help ADOT dedicate SR 24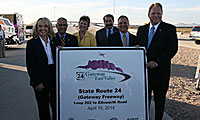 You don't often have the chance to walk, bike or skate on a highway…
But yesterday, many people did just that as ADOT and the city of Mesa hosted a celebration on the soon-to-be-opened Gateway Freeway (SR 24). The new one-mile stretch was the site of a ribbon-cutting ceremony and public "open house" (see slideshow above).
More about SR 24
You might remember that it was nearly two years ago when we told you about the start of construction on SR 24 and how the city of Mesa accelerated the start of construction by several years through a transportation bonding-program.
Now that the road is just about finished (ADOT plans to complete construction and open the freeway to motorists early next month), drivers soon will be able to use SR 24 to connect directly from the Loop 202 Santan Freeway to Ellsworth Road near Phoenix-Mesa Gateway Airport. The new section will improve access to the nearby airport and other local businesses and housing developments.
At yesterday's event, ADOT Director John Halikowski said future plans call for extending SR 24 when regional and state funding is available.
"It will connect to the proposed North-South transportation corridor currently being planned in Pinal County," said Halikowski. "Ultimately, the freeway will link this region – its airport, businesses and communities – to the statewide highway system and what we call the Key Commerce Corridors. These are the routes that will help boost trade and job growth, ensuring Arizona's seat at the table of the global economy."
For more on SR 24, revisit some of our previous posts.