Grand Canyon Airport staff stay prepared with emergency exercise
Grand Canyon Airport staff stay prepared with emergency exercise
By Ryan Harding / ADOT Communications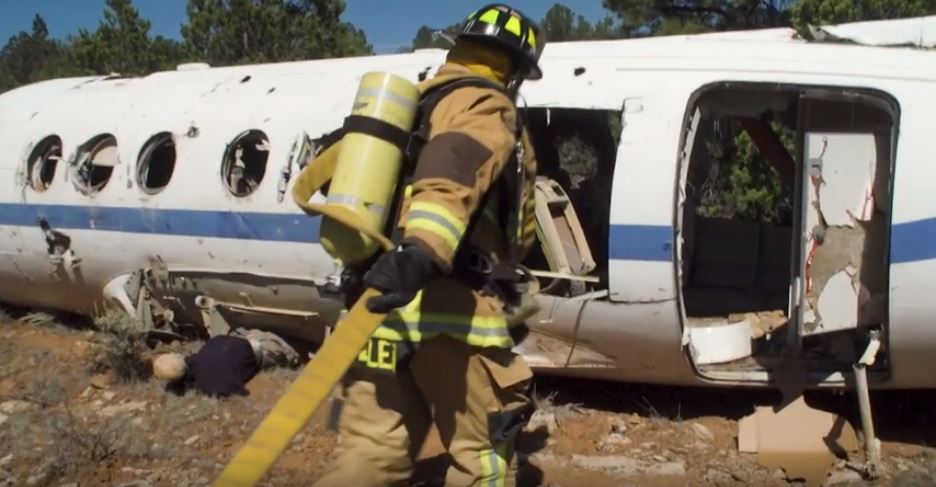 Recently, the staff at the Grand Canyon National Park Airport was going about their daily business when suddenly an alarm began to sound and the red emergency phone began to ring. There had been a crash on the west side of the runway as a 25-passenger aircraft was attempting to land!
Fortunately, there was no real emergency. This was all part of a simulated disaster drill that I got to take part in along with the rest of the staff of the Grand Canyon Airport and other local agencies.
While this triennial exercise is required by the Federal Aviation Administration, it gives the airport staff and firefighters a chance to put their skills to the test and evaluate where they could improve so they will be more prepared in the event of a real emergency.
I hung out in the Incident Command room along with Matt Smith, the airport manager, and Michael Cockrum, the airport operations manager, who were busily gathering information from the first responders at the site of the "crash."
Folks from the Tusayan Fire District, the National Park Service, the U.S. Forest Service and Coconino County Emergency Management participated in the exercise alongside the airports firefighters. About 14 volunteers also came out to play as victims in the drill. Emergency responders practiced their search-and-rescue skills to find the victims and then practiced triaging and treating the victims.
These exercises wouldn't be successful without the help of volunteers and first responders from other agencies. ADOT Emergency Manager Kevin Duby, who was also on-site as an evaluator, said meeting other first responders beforehand makes you a better team when a real emergency occurs.
The Grand Canyon Airport staff and other local agencies are better prepared for real emergencies thanks to exercises like these.
For more information on airport and the exercise, watch the video of the scenario put together by our video crew.