Green dirt has nothing to do with St. Patrick's Day
Green dirt has nothing to do with St. Patrick's Day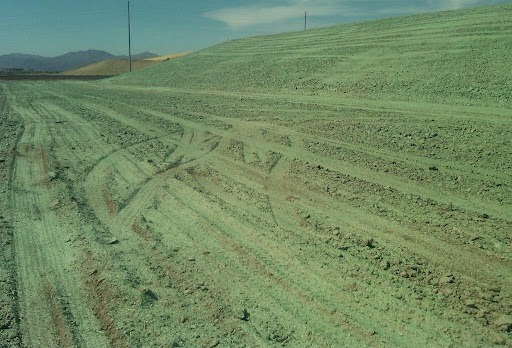 We won't blame you if you see this green slope at the Loop 303 and US 60 (Grand Avenue) and think it's part of a St. Patrick's Day stunt, but we promise this is no gimmick!
The mound of dirt is green for good reason, albeit one that has nothing to do with tomorrow's holiday …
ADOT crews just seeded it with a wonderful mix of desert flowers and groundcover plant material.
The seed mixture is actually sprayed on and has an all-natural green dye in it. This dye helps whoever is doing the spraying make sure they get full coverage. In time, the dye will fade, so the slope won't be green forever!
If we get some nice spring rains, we should see things blooming and growing on the slope in about 45 days.
About now, you might be wondering what this dirt mound is doing ... just sitting there. Maybe you're also asking why ADOT goes to the trouble of seeding slopes like this one.
Well, as part of the Loop 303 Improvement Project, crews had to excavate and haul about 150,000 cubic yards of dirt away from the roadway alignment south of US 60 so bridges could be built at Waddell and Cactus roads.
They hauled the dirt to this location just for the time being.
In the future when it comes time to build the interim traffic interchange at US 60 and Loop 303, this dirt will be used during construction.
But, by seeding it now ADOT is able to control dust. The vegetation that grows will cover the soil and prevent dust (landform graphics work in a similar manner). Seeding also helps prevent erosion.
So, even though there's no St. Patrick's Day connection, we'll take this chance to wish you a little luck of the Irish anyway!