Happy Holidays from the ADOT Blog!
Happy Holidays from the ADOT Blog!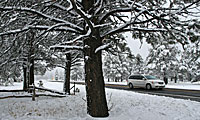 It seems like 2013 has flown by – can you believe we've got less than two weeks until the New Year?
We've really enjoyed being able to share ADOT's story with you throughout the year, and we look forward to bringing you more videos and blog posts in 2014!
However, starting Dec. 23, the ADOT Blog will be taking a weeklong hiatus. So, there are a few things we want to make sure to tell you about before the blog goes on vacation…
Drivers will be happy to know ADOT has announced that no full closures for construction will be scheduled along state highways during the upcoming Christmas and New Year's holiday period (Dec. 23-Jan. 2). Motorists are still urged to plan ahead, allow extra travel time, avoid distractions and be patient if traveling during the holidays. Please obey speed limits, buckle up and never drive while impaired. Don't forget to #KnowSnow.
Only the blog is taking an extended vacation. All ADOT and MVD offices will be open EXCEPT for Dec. 25 and Jan. 1, when they'll close in recognition of the holidays.