Her nightmare drive home was saved by ADOT, DPS angels
Her nightmare drive home was saved by ADOT, DPS angels
By Laurie Merrill / ADOT Communications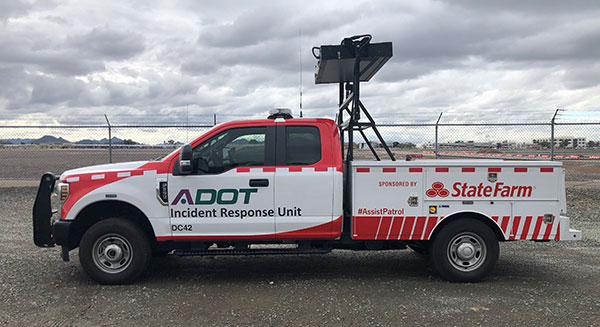 For Lisa Spresney and her young daughter, what started as a fun evening at a Moon Valley swim meet soon descended into a nightmare drive home when her tire blew out on Interstate 10 near University Drive.
Fortunately for Lisa, the nightmare ended quickly with the arrival of an ADOT Incident Response Unit member and two Department of Public Safety (DPS) highway troopers. They not only came to her rescue, they also stayed with her until she could safely finish her drive. 
"I'm so very, very grateful for the help of these individuals, who definitely went above and beyond what they needed to do," Spresney said.
Spresney, herself a public servant as Facilities Project Manager for Maricopa County, was so grateful that she posted photos of her ordeal on Facebook along with a message of thanks.
It had been a pleasant evening for Spresney and her daughter, Rachel, as they headed home at about 8 p.m. Friday, Oct. 15. They had taken State Route 51 southbound to the I-10 eastbound toward the East Valley.
As they rounded the Broadway Curve, Spresney heard a very loud sound.
"It sounded like a jackhammer," she said.
As she drove, the noise got worse and the tire pressure light went on.
"It wasn't until all these other lights came on that I kind of panicked," she said.
Just before University Drive, she pulled over as far right as she could, but her vehicle was still half in the right lane.  
"I was scared because I realized how precarious our situation was," she said.
She dialed her husband and said, "call Triple A for me!"
He responded, "you really need to call 911."
As she was dialing, an ADOT Incident Response Unit (IRU) truck pulled up behind her car and two DPS highway patrol vehicles pulled in front of her.
This alone made her feel safe and thankful, but the two troopers and ADOT IRU employee did much more.
They encouraged her to pull her car off the highway. So, off they went, a procession with Spresney and three vehicles escorted her off the highway to a nearby gas station parking lot.
"They pulled out their tools, and put the spare tire on. It was deflated," Spresney said. "But the air machine at the gas station was broken."
The photo on Spresney's Facebook post shows the undeflated spare tire, while the one on the right shows the condition of the tire that blew out. 
The state workers soon found a man on dinner break who happened to have an air machine in his truck.
"Another random stranger helped me," she said.  
Even with her spare tire properly installed and inflated, the troopers and IRU member waited until Spresney's husband arrived.
"They made sure my husband got there and I was handed off before we left," she said. "I was so shaken, and they helped me so much."
Launched in 2019 and sponsored by State Farm, Incident Response Unit members rapidly respond to incidents ranging from serious crashes to stranded motorists, working to keep highways and lanes open and get motorists, like Spresney, safely home. 
"This is another example of how our state agenices work in a collaborative effort to the best of their abilities to ensure the safety of our community," said David Blue, IRU program manager, referring to ADOT and DPS.
For another heart-warming story about how an IRU member saved a kitten, click here. 
For a blog about how motorists "love" the IRU, click here.