Historic Chevelon Creek Bridge gets restored
Historic Chevelon Creek Bridge gets restored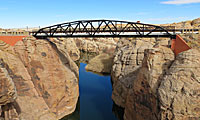 Last month, we showed you the lead abatement process used to strip Chevelon Creek Bridge of some very old paint. The procedure was fairly involved and included wrapping the entire bridge with plastic in order to protect the surrounding environment.
Believe it or not, that was only part of the entire bridge rehab project.
You can see in the video above that crews also had to replace the bridge deck, complete steel repairs and make modifications to the abutments.
If all the work sounds extensive, you have to remember that we're talking about a bridge that was built over 100 years ago.
Yep, that's right – the Chevelon Creek Bridge has been around almost as long as Arizona has been an official state! But age isn't the only noteworthy aspect of this bridge...
A historically significant bridge
The Chevelon Creek Bridge is one of the first highway structures to be undertaken by the newly formed State of Arizona.
According to the state's Historic Bridge Inventory, the deep, rocky canyon over Chevelon Creek formed a "practically impassible topographic barrier to the Santa Fe Highway across northern Arizona. In 1912, the newly formed state legislature appropriated $5,500 from the State Road Fund for construction of a substantial new structure here."
On Oct. 2, 1912, the state contracted with the Missouri Valley Bridge & Iron Works for construction of the bridge. According to the document, Arizona accepted the completed bridge in July 1913 for a total cost of $4,985.
"The Chevelon Creek Bridge carried mainline traffic on the Santa Fe Highway until a realignment sometime between 1917 and 1924 moved the route north of the Little Colorado River," according to the Inventory. "The bridge and the adjacent roadway were then relegated to county road status."
Calling it, "one of Arizona's most historically and technologically important spans," the Inventory informs us that the Chevelon Creek Bridge was the first truss built by the state, designed, fabricated and erected by a nationally important bridge firm."
Today, the bridge still serves as an important transportation corridor for drivers in Navajo County and, after the completion of the recent rehabilitation project, it wouldn't be unreasonable to believe that the bridge will be around for another 100 years.
"That's a good looking bridge," says Navajo County Assistant Public Works Director Bill Bess in the video above. "They don't make them like that anymore!"