Historic Ligurta Wash Bridge still carrying traffic
Historic Ligurta Wash Bridge still carrying traffic
By Kathy Cline / ADOT Communications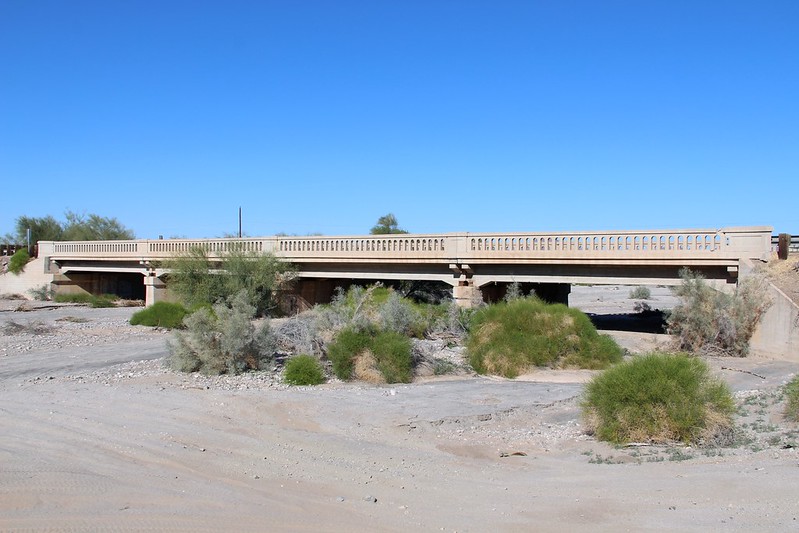 When you think of a bridge, you probably imagine some long span crossing a deep canyon or large river. It's easy to overlook the humbler examples that cross small crevices and washes. 
And that's exactly what you'll find with the Ligurta Wash Bridge, not to be confused with the nearby and similarly named Ligurta Underpass, which we told you about in a previous blog.
Located on Old US Highway 80 near the eponymous community, the Ligurta Wash Bridge began its life in 1930. The Arizona Highway Department wanted to improve the Yuma-Wellton Highway (as that section of US 80 was then called), which started just east of Ligurta and ended about 5.5 miles away, before Wellton. The improvement plans included the construction of two nearly identical reinforced-concrete bridges over intermittent washes.
And speaking of design, the bridge is also one of the best surviving examples of a new girder standard. The state of Arizona was using concrete for bridges as early as 1910. The earliest girder bridges, such as the Antelope Hill Bridge, had two deep girders cast as part of the concrete deck. By the 1920s, the new standard was four or more shallower girders, which allowed for greater clearance under the bridge. The Ligurta Wash Bridge uses this refined design.
Construction began in the summer of 1930, and the bridge was opened to traffic the following spring. For many years, the Ligurta Wash Bridge carried much of the US 80 traffic. When Interstate 8 was built in the late 1960s, US 80 traffic dropped quite a bit, but the bridge remained standing. Now overseen by Yuma County, the Ligurta Wash Bridge lives on in its original form, carrying local traffic alongside I-8. It may not see the amount of traffic it used to, but its design has withstood the test of time.