History abounds on the walls of Loop 202 South Mountain Freeway
History abounds on the walls of Loop 202 South Mountain Freeway
By Laurie Merrill / ADOT Communications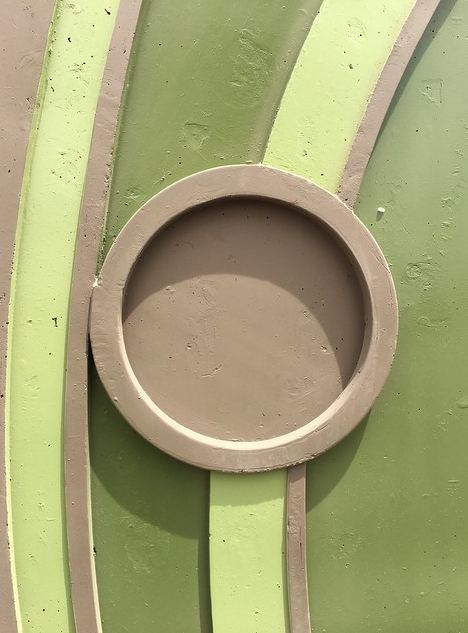 How do you pick a single theme for beautifying the 22-mile Loop 202 South Mountain Freeway?
That was the question facing the Arizona Department of Transportation's Roadside Development Section once work began on the new $2 billion freeway, which today provides a much needed alternative to Interstate 10 through downtown Phoenix.
After considerable discussion, the answer was, you don't.
"This was the largest project we have ever done," said Joseph Salazar, project team leader for ADOT's Landscape Architecture and Aesthetics. "We wanted to show a diversity of ideas, multiple themes reflecting different areas."
As ADOT recently commemorated the one-year anniversary of the opening of the freeway, Salazar described the different art ideas along the bridges, sound walls and landforms of the ambitious project.
If diversity was sought, it was found in forms ranging from Hohokam images to geometric stripes in brilliant hues of green, red and yellow. Simple shapes reflect the area's landscape, animals, history and vegetation. Bold angles and lines signify the more urban nature as the freeway turns toward downtown Phoenix. You can see a sampling of all these designs in the Flickr album to the right.
Working along with the project team were artists from the Cosanti and Frank Lloyd Wright foundations, as well as others.
Frank Lloyd Wright's influence in the freeway's Ahwatukee section stems from the 1920s Ocotillo camp, near what is now 32nd Street, where Wright produced designs for a desert resort that was never built due to the 1929 stock market crash.
"The architectural camp site still exists, but all of the buildings are gone," Salazar said.
The walls of Wright's camp featured horizontal lines echoing the desert floor and long horizons, so freeway sound walls in that area have horizontal lines, in contrast to vertical lines on other Valley freeways.  
Symmetrical waves with curling tops march in a pattern against a red background near the Salt River. Toward Laveen, two-toned green leaves with "Arcosanti leaf portals" harken to the agricultural areas of Laveen, Salazar said.
"Once you cross the Salt River Bridge, we see the urban link pattern that represents the urbanization of the Valley and the urban link of the I-10 coming together with Loop 202, the two highways coming together," he said.
As you drive along the one-year-old freeway, consider how the artwork represents agriculture, urbanization, the Salt and Gila rivers, Paolo Saleri and Frank Lloyd Wright.