Holiday Travel: SR 87 construction finished in time for Memorial Day
Holiday Travel: SR 87 construction finished in time for Memorial Day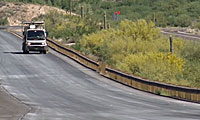 Construction work along State Route 87 is set to wrap up just in time for the upcoming holiday weekend!
That means motorists who travel between the Valley and Rim Country communities this Memorial Day – and all summer long – will enjoy a safer, quicker and more scenic drive.
SR 87 is the major link between the metro Phoenix region and Payson and is a popular route for Valley residents hoping to take a vacation from the heat.
Holiday weekends and summer months are particularly busy for the stretch of road. In the past, large numbers of vehicles heading back down to the Valley would create backups on the last steep incline before the highway drops toward the Bush Highway.
But, now drivers should see some significant upgrades to portions of the highway!
This week ADOT is putting the finishing touches on an $11.7 million roadway improvement and erosion-control project. Funded by the federal American Recovery and Reinvestment Act, the project included repairing slopes and ditches, reinforcing embankments and implementing roadway modifications to meet state and federal standards on SR 87 between New Four Peaks Road (milepost 204) and Dos S Ranch Road (milepost 210).
If you take a drive up or down SR 87, some things you'll be sure to notice are:
A 1.5-mile southbound climbing lane that was added to reduce backups caused by slow-moving trucks and RVs.
Highway shoulders that were widened for safety.
Erosion control measures that were taken on adjacent slopes to reduce the possibility of rocks falling onto the roadway.
It's important to note that work began in September 2010 and was completed not only on time, but also on budget!