How much has the MVD office experience improved? Ask our customers
How much has the MVD office experience improved? Ask our customers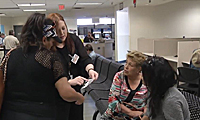 By Dani Weber / ADOT Communications
The many process improvements that Motor Vehicle Division offices have adopted have resulted in drastically reduced wait times.
Instead of a computerized voice calling customers to open windows, MVD customer service representatives work the lines to make sure everyone is prepared with all the necessary forms and identification necessary for their transactions.
The changes are having a big impact and people all across Arizona are starting to notice.
In our video above, people who visited MVD locations talk about the changes. And with additional services offered online at ServiceArizona.com and at ServiceArizona kiosks in select locations, customers are able to do many of the most common transactions much faster and at their leisure.
"One hundred percent better now," noted one customer."
"This used to be a long wait and it isn't anymore," said another customer.