The I-10 Deck Park Tunnel turns 30!
The I-10 Deck Park Tunnel turns 30!
By Caroline Carpenter / ADOT Communications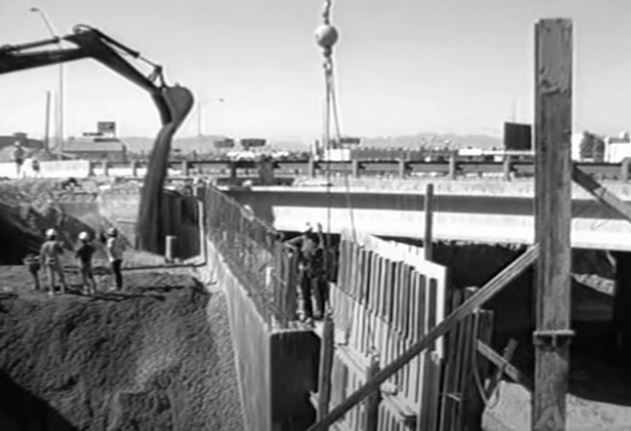 We're blowing out the candles for the Deck Park Tunnel as it turns 30! 
You may have noticed the Deck Park Tunnel was closed this past weekend, but there was no birthday makeover happening. The closure was to allow crews to perform regular maintenance. Our video from earlier this year explains the work crews do each quarter to keep the 30-year-old tunnel looking its best.    
Let's go back to the beginning and the tunnel opening in August 1990. Before the Deck Park Tunnel officially opened to traffic on Aug. 10, the public was allowed to walk, ride and tour the tunnel. When it began taking traffic in 1990, the tunnel was touted as the final segment that connected Interstate 10 from coast to coast. The 2,500 mile interstate begins in Santa Monica, California and ends in Jacksonville, Florida and took more than 30 years to complete. Interstate 10, just in Arizona, is nearly 400 miles long. 
Before we continue, it's important to note the Deck Park Tunnel isn't actually a tunnel. It consists of 19 side-by-side bridges. On top of all of those bridges is Margaret T. Hance Park. The 32-acre city park is more than just a green space. It's home to Arizona Humanities, Burton Barr Central Library, Cutler Plotkin Jewish Heritage Center, Irish Cultural Center, Japanese Friendship Garden, and Phoenix Center for the Arts.
Now, back to the Deck Park Tunnel, also known as the Papago Freeway Tunnel. The tunnel has much more going on than the 290,000 vehicles that travel through it each day. It is home to more than 3,000 lightbulbs, 4 large ventilation fans and one hidden lane. That single lane goes between the east- and westbound tubes and was meant to be an express bus lane. It's not in use and is closed to the public. The tunnel is also home to a control room. It was the original location for the ADOT Traffic Operations Center. Today, ADOT employees who manage the tunnel and its operations work in that control room. You can see the original control panel in the photo to the left.
We hope we've given you a good background on the Deck Park Tunnel and that you've gained a new appreciation for the birthday girl the next time you drive through it! If you'd like to learn more about the tunnel, visit the ADOT Blog.