I-10 at Eloy: A video tour of progress on widening, dust detection system
I-10 at Eloy: A video tour of progress on widening, dust detection system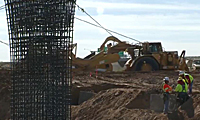 By Tom Herrmann / ADOT Communications
The signs of progress are unmistakable. About halfway between Phoenix and Tucson, off to the east of Interstate 10 as you pass Eloy, you can see the groundwork for new lanes of I-10 and rebar for the bridges that will be part of a new interchange for I-10 and State Route 87.
Dave Locher, the ADOT resident engineer leading the project, explains in the video above what's coming between now and October 2019.
"We're moving dirt in right now, getting ready for the paving for the new westbound lanes. We're also building two structures where State Route 87 will go over I-10 and the Union Pacific Railroad," he said.
"At the end of the summer we'll shift existing westbound traffic onto the new westbound lanes. And then we'll start to build new eastbound lanes. Toward the end of the project we'll shift all traffic onto the new lanes.
"Building this freeway offline really is less impactful for the drivers who use this to go back and forth between Tucson and Phoenix. When we open this new road, this section of I-10 will be in a different location. It will be moved to the northeast a few hundred feet and then tie in to the existing lanes."
The work is part of a $58 million project that also includes widening I-10 to six lanes and creating a first-of-its-kind dust detection zone designed to make the freeway safer for drivers when blowing dust makes it difficult to see the road ahead. Work on the dust detection project will be done as crews build the new eastbound lanes.
"A huge part of this project is to add a dust storm-monitoring program that will detect a dust storm that is coming into this area. It will give us instant message on what drivers can expect," Locher said.
What will happen once traffic moves to the new lanes?
"One of the last things to get done is we'll demo the old freeway and you'll have a brand new intersection where SR 87 and I-10 come together."
For more on this project, visit azdot.gov/SR87Picacho.