I-10 improvements continue from Wild Horse Pass Blvd. to Riggs Road
I-10 improvements continue from Wild Horse Pass Blvd. to Riggs Road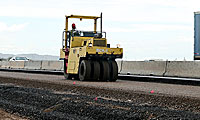 Visiting a road construction site can be a learning experience for anyone, but for a transportation blog writer, it's so much more...
Beyond being educational, for us, trips to the work zone are full of brand new terms, information and material that we can pass on and share with our readers!
We recently had the opportunity to take a tour of an I-10 improvement project and we've got lots of behind-the-scenes stuff to share, but first let us tell a little about the work that's happening on the site right now.
The project stretches along I-10 from Wild Horse Pass Boulevard to Riggs Road, within the Gila River Indian Community and the city of Chandler. ADOT is making improvements along that segment of the freeway.
Work includes adding an auxiliary lane in each direction (between Wild Horse Pass Boulevard and Queen Creek Road). Crews also are milling and replacing pavement along the entire project corridor. Other improvements include new signing, striping and drainage improvements.
Once complete, the new auxiliary lane will serve as a dedicated exit lane for motorists heading off the freeway for Queen Creek Road. The new auxiliary lane will help to better accommodate traffic in the area.
Drivers should know that during construction, one lane will be open on I-10 at all times. To help eliminate traffic congestion, work is scheduled primarily at night and on weekends. However, daytime work may be necessary to ensure the project is completed on time and the work is done safely.
Interesting sights on the site
Now that you've got the project details, let's focus on a couple of the things we saw during our tour…
Layers- It's not often that you get a cross sectional view of a roadway, but in the photo above you can easily see the distinct layers that make up a pavement's base.
Starting from the bottom, you've got the ground (we've blogged before about how dirt is prepared on some projects).
The next layer up is the subgrade course – this layer is built to specifications and helps to build up the base to a required height and strength (fun fact: the layer is black because crews are reusing millings from the pavement project. See this previous post to learn how crews mill and replace asphalt pavement).
Next, you have the aggregate base, which is gravel that goes down under the asphalt. This layer helps distribute the weight of the traffic that's driving on the asphalt.
On top of all that, there's the surface course (aka the road you drive on). According to ADOT's Standard Specifications, this layer is made up of specified materials designed to accommodate the traffic load, the top layer of which resists skidding, traffic abrasion and the disintegrating effects of climate.
This post has gone on long enough, but we can't wrap up before we tell you about that vehicle in the photo.
What you're looking at is called a pneumatic tire roller. You can see that it is being used to compact the aggregate base. Vibratory rollers (often, incorrectly referred to as steamrollers) are sometimes used for this job, but with its air-filled tires, the pneumatic tire roller distributes the load a little differently and offers good compaction.
OK, that's it for now but stay tuned! We'll bring you project updates as work wraps up this winter and we still have more information to share with you from the site tour.