I-10 Wild Horse Pass Corridor Reaches Major Milestone
I-10 Wild Horse Pass Corridor Reaches Major Milestone
By John Halikowski / ADOT Director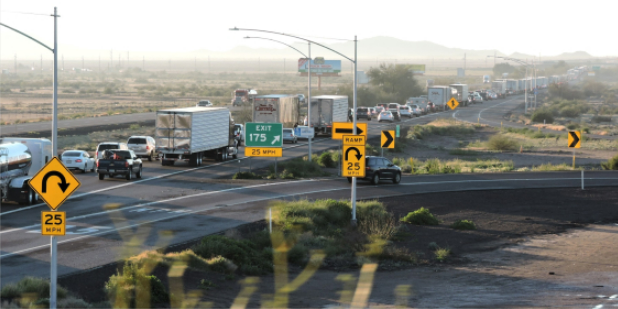 A significant milestone has been reached toward improving Interstate 10 south of the metro-Phoenix area, known as the Wild Horse Pass Corridor. 
The Arizona Department of Transportation has published the draft study recommendations for the I-10 improvements between the Loop 202 Freeway (Santan/South Mountain) and State Route 387. It's an important milestone in improving the 26-mile stretch of I-10 between Phoenix and Casa Grande.
The draft Environmental Assessment and Design Concept Report are available for public review and comment. These documents identify the recommended approach to widening I-10 and modifying traffic interchanges and crossroads, with the goals of reducing congestion and the frequency and number of crashes.
ADOT has been working with the Gila River Indian Community, the Bureau of Indian Affairs, the Federal Highway Administration and the Maricopa Association of Governments to develop a vision and strategy to improve I-10, a Key Commerce Corridor. By working together, we are connecting communities and keeping motorists safe. I'm proud of the partnerships we've developed and will continue to foster in the years to come.
The public comment period runs through Oct. 9. During the comment period, ADOT will host three in-person public hearings and one virtual public hearing. You can find the dates, locations and times on the study website, along with how to submit a comment. You can also review the draft EA and DCR documents on the website.
I encourage anyone who uses I-10 between Phoenix and Tucson to participate in this important part of the study process. We need to ensure that all voices are heard before a final decision is made.
We look forward to hearing from you and for more milestone moments ahead for the Wild Horse Pass Corridor!