I-10/Prince Road project is complete
I-10/Prince Road project is complete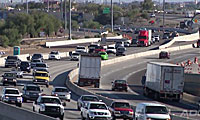 We've been blogging about this one for a while…
It was back in 2011 that we first told you about the improvements being made to I-10 and Prince Road in the Tucson area.
Today, nearly three years later, we're happy to inform you of the project's completion!
Since March, motorists traveling along Prince Road at the I-10 junction are no longer inconvenienced when one of the 40-60 trains pass daily through this area of Tucson.
Now, there's no more waiting for the train to go by! Since ADOT opened the reconstructed Prince Road traffic interchange, motorists now are traveling over – instead of under – I-10.
The new overpass, which was built 30 feet above ground level on the east side of I-10 and slopes down to reach current ground-level, was a key part of a $76.4 million I-10 widening project between Ruthrauff and Prince roads. The project upgraded a two-plus mile section of I-10 by increasing capacity, reducing congestion and improving traffic flow on this highly traveled corridor in Tucson.
Over the past several months, work on the I-10 (Ruthrauff Road to Prince Road) widening project has been completed. Since March, crews have completed landscaping, electrical and barrier installation, sign installation and rubberized asphalt paving.
These improvements will help to increase the flow of traffic through the area and will also contribute toward increasing the safety of the traveling public.
If you're interested in seeing this project's progress, please revisit some of our previous posts.