I-10/Prince Road widening project enters its final phases
I-10/Prince Road widening project enters its final phases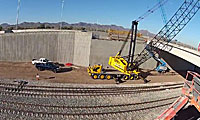 It's been a while since we last checked in on the I-10/Prince Road widening project and judging by the video above, a lot has happened at the site.
But, before we take a look at the progress, let us first give you an overview of the project…
I-10 from Ruthrauff Road to Prince Road widening
ADOT started construction in September 2011 to widen I-10 between Ruthrauff and Prince roads in Tucson.
Besides widening that portion of I-10 to four lanes in each direction, the project also is set to reconstruct the Prince Road traffic interchange so that Prince Road will pass over the Union Pacific Railroad tracks and I-10 (this video gives a good explanation).
The project will also update the on- and off-ramps to provide better connections and access. New landscaping is part of the project, too.
Where things are now
You can see in today's video that crews recently worked to install 22 girders (each measuring in at about 120 feet) for the bridge over the Union Pacific Railroad. According to Resident Engineer Mindy Teague, the process is a little trickier than some of the other bridges on the project.
"We have to coordinate all of our actions with the trains coming through," she says.
After the girders have been placed, the next step is to pour the bridge deck, says Tucson District Engineer Roderick Lane in the video.
"There's kind of a big span between this bridge and the next bridge and that's all going to be filled with dirt, so it's really going to open up the whole west side of Prince Road for quite a bit of development opportunity," Lane says, adding that ADOT has put a lot of effort into making business accessible during construction. "The light is at the end of the tunnel. We're down to the last six months, or so. You can see everything coming up out of the ground and we really appreciate everybody's patience and efforts as we move through this."
For more on the project, check out our previous blog posts.
****
What to expect in Tucson near the project area this Saturday (Nov. 23)
Motorists should expect heavy traffic and possible delays because of special events in Tucson on Saturday, Nov. 23.
Roadway restrictions are planned along I-10 and SR77 (Oracle Road) because of the El Tour de Tucson bicycle race. Drivers should allow extra travel time and consider alternate routes.
In addition, the University of Arizona football game home finale versus University of Oregon kicks off at 1:30 p.m. and significant traffic delays are expected. Football fans should leave early and consider using Kino Parkway or Park Avenue exits as alternate routes off of I-10 to Arizona Stadium.
Detours and road closures will be in place from 4 a.m. to 7 p.m. on Saturday, Nov. 23 for El Tour de Tucson: Eastbound I-10 frontage road from Tangerine Road to 22nd Street will be narrowed to one lane. Cyclists will be traveling in the right lane, except within the Prince Road construction project area, where they will be in the left lane briefly and then back into the right lane.
Construction DETOUR:
Due to the construction at Prince Road, vehicles will be detoured to the eastbound I-10 entrance ramp at Ruthrauff Road.
Drivers can take the Prince Road exit ramp to access the frontage road businesses or Business Center Drive.
Drivers leaving this area will be directed by law enforcement to use the right lane to allow cyclists to use the left lane.
Ramp restrictions will be in place on I-10 at Craycroft, Wilmot and Kolb roads. The eastbound I-10 exit ramp at Craycroft Road will be closed. The eastbound I-10 entrance and exit ramp at Wilmot Road will be closed. The eastbound I-10 exit ramp and westbound I-10 exit ramp at Kolb Road will be closed.
Northbound SR 77 from Ina Road to Rancho Vistoso Boulevard will be narrowed to two lanes. Cyclists will be traveling in the right lane and on the shoulder.
Westbound I-10 frontage road traffic will be detoured to eastbound 22nd Street. Eastbound 22nd Street will be restricted to one lane in each direction from I-10 to 4th Avenue. Cyclists will use westbound 22nd Street.
Eastbound I-10 exit ramps at Congress Road and 22nd Street/Star Pass Boulevard will be closed. The eastbound entrance ramps will remain open.
For the most current information about highway closures and restrictions statewide, visit ADOT's Travel Information site at az511.gov, follow us on Twitter (@ArizonaDOT) or call 511.