I-15 Bridge 6 reconstruction update
I-15 Bridge 6 reconstruction update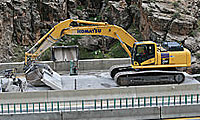 It's been a while since we checked in on the Virgin River Bridge No. 6 rehabilitation project that's happening up in the far northwestern corner of the state, but as you can see crews have kept busy…
In the slideshow above, you'll notice a few falling rocks, but don't worry – that was all planned! In addition to the ongoing construction, crews worked recently to clear rocks within the work zone. The rockfall containment required some traffic breaks through last week.
You'll also see some photos of the bridge deck demo.
If it looks a little different from other demolitions we've featured in the past, that's because this bridge sits over the Virgin River and many precautions are being taken to protect the area below. We have video with many more details coming your way soon. Until then, check out our previous posts and project photos. 
What drivers should know
The $27 million rehabilitation of Virgin River Bridge No. 6 began in March 2014, and is anticipated to be completed in 2016. This significant project includes the replacement of the bridge's superstructure (girders, deck and railings), as well as widening the roadway through the narrow passage of the gorge.
Drivers should allow for up to 15 minutes extra travel time during construction, weekdays from 6 a.m. to 6 p.m. Additional delay time may occur on weekends due to heavier traffic volume and special events. The busiest travel times through the Gorge are Friday through Sundays. With limited alternate routes due to the remote location of the I-15 Virgin River Gorge corridor, ADOT urges drivers to plan ahead and allow extra travel time.