I-17 northbound into Flagstaff getting much-needed TLC
I-17 northbound into Flagstaff getting much-needed TLC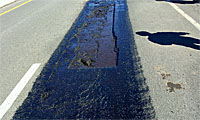 By Ryan Harding / ADOT Communications
Those looking to escape the summer heat will soon have a smoother ride to Flagstaff.
The Arizona Department of Transportation is starting a project that will replace pavement along Interstate 17 northbound in higher reaches approaching Flagstaff, addressing damage the highway takes from winter freeze-thaw cycles, snowplowing and commercial vehicles.
In addition to repaving 28 miles from the Coconino County line to Interstate 40 (the dark orange line on the map above), crews are also rebuilding 2 miles of I-17 from the ground up between milepost 312 and 314. Crews have narrowed I-17 to one lane in this stretch, a restriction that will last through mid-summer. We're rebuilding the right lane first.
The project also includes replacing the bridge decks in each direction on the I-17 overpass at Willard Springs Road near milepost 326. Drivers can expect periodic closures of Willard Springs Road and ramp closures.
The majority of the work is expected to be completed by late fall, with additional work happening next spring.
In addition to I-17, ADOT is improving pavement along 35 miles of Interstate 40 in both directions in the Flagstaff area, addressing deterioration caused by snow and snowplowing, freeze-thaw cycles and heavy use by commercial vehicles. And ADOT is replacing the I-40 bridge decks over I-17 and Beulah Boulevard at the I-40 and I-17 interchange in Flagstaff.
You can also sign up to receive updates from ADOT by clicking on the Subscribe for Updates on the ADOT homepage.