Improvements continue along US 60 corridor near Superior
Improvements continue along US 60 corridor near Superior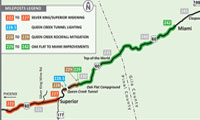 If you follow us on Facebook or Twitter, you've likely seen the blasting notifications, warning drivers when closures are planned for US 60 near Superior.
We also post the reminders on the ADOT website, the project page and message boards around the construction area.
While the blasting is necessary to remove several areas of rock embankment, there's a lot more to the project … so, we thought we'd take the opportunity to fill you in on all the details.
Oak Flat to Miami East
Once complete, this $8.8 million safety improvement project is going to give drivers a brand new passing lane from Devil's Canyon to Oak Flat (mileposts 231-233) that'll make it easier for motorists to pass large trucks and slow-moving vehicles whose speed drops because of the sustained grades along this stretch of highway.
Besides the construction of that new westbound passing lane, work also includes widening the shoulders in the Devil's Canyon area, improvements to the Waterfall Canyon Bridge (milepost 229) and box culvert drainage improvements (milepost 242, just west of Miami).
What drivers need to know
It is expected that the blasting closures will continue through the end of the year. There is some very hard rock material and narrow areas that prevent crews from completing large blasts during each closure. Because smaller blasts are necessary, it takes longer to clear particular areas. As blasting continues there will be a lesser impact on traffic and delays will be reduced.
When blasts are scheduled, motorists traveling along US 60 between Phoenix and Globe need to plan ahead or allow extra time. Typically, traffic on eastbound US 60 will be stopped east of Superior (milepost 227) and westbound US 60 will be stopped at the Top of the World, west of Miami (milepost 235) until the blasting work is completed and the roadway is reopened after the debris is cleared. Law enforcement officers are stationed at each closure to assist with traffic control.
Approximately 30 minutes prior to each blast, motorists should be prepared for possible delays and lane closures through the area as crews set the concrete barrier prior to each scheduled closure.
But wait, there's more…
The Oak Flat to Miami portion of US 60 isn't the only stretch of the highway that's being improved. We'll have more information on these projects as they progress, but for now here's a quick rundown.
Work has started on a project that will convert the last remaining two-lane roadway segment on US 60 between Phoenix and Superior into a modern, four-lane divided highway. The US 60 Silver King/Superior Streets project just west of Superior (mileposts 222-227) is expected to take two years to complete and will include improving the urban section of highway in Superior. The five-mile-long widening improvements will improve traffic flow and enhance safety on US 60.
Crews have also begun work on a rock mitigation project along mileposts 228-229, that includes the removal of loose boulders along this very rocky and steep section of highway adjacent to the Queen Creek Tunnel.
And finally, there's the upcoming lighting project that will replace the antiquated lighting in the US 60 Queen Creek Tunnel with a new light-emitting diode (LED) lighting system. This will be the first tunnel in Arizona to have this LED technology. The new lighting system will improve visibility within the tunnel, which was originally built in 1952, by using an adaptive control system that will adjust the lighting level based upon ambient light and weather conditions outside the tunnel.
For even more details, drivers can subscribe for project email updates.