Improvements made to Avenue 3E Bridge in Yuma
Improvements made to Avenue 3E Bridge in Yuma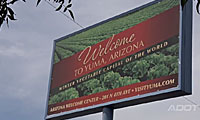 Even though the Avenue 3E Bridge widening project in Yuma isn't the biggest ADOT undertaking in terms of budget or scope, it has made a pretty big impact.
Work wrapped up recently and included widening the bridge from two lanes to six (three in each direction), construction of a raised median and the addition of new pavement markings, signage and a pedestrian walkway.
ADOT started construction about a year ago and worked with the city of Yuma to complete the project, a majority of which was funded through a federal grant administered by ADOT.
Project's impact
Yuma City Councilman Paul Johnson explains in the video above that this project helped the nearby Marine Corps Air Station secure a contract for the F-35 fighter jet.
"During the base selection process for the F-35, we had a big strike against us," Johnson says. "We had bad traffic congestion and it was emphatically brought out in the environmental impact statement."
The improved infrastructure is also likely welcomed by Yuma's agricultural industry. An estimated 400-700 truckloads of produce cross that bridge in the winter months!
"It's pretty obvious that if you're going to have a good economy, quality of life and a sustainable economy, you have to have proper infrastructure," says ADOT Director John Halikowski. "What this project does is fosters economic development, both from the military base's perspective, but also from our agribusiness."