Ina Road/I-10 construction: Bustling and on schedule
Ina Road/I-10 construction: Bustling and on schedule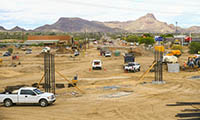 By Tom Herrmann / ADOT Communications
Three months after closing Ina Road at I-10 for construction of a modern traffic interchange, ADOT is on track to complete work in early 2019. The slideshows above and below show how work is progressing at Ina Road and I-10, and just to the west at bridges where Ina Road crosses the Santa Cruz River.
With the bridge that carried eastbound I-10 over Ina Road already removed, crews are working to rebuild a four-lane Ina Road west of the freeway and are digging holes for pillars that will support a bridge to carry Ina over I-10 and the Union Pacific Railroad tracks. The result will be a smoother traffic flow without regular interruptions for trains passing through.
About a half mile to the west, pillars are in place to carry a two-lane bridge over the Santa Cruz River for traffic moving toward I-10. Once that bridge is in place ADOT crews will replace the existing bridge with a new structure, giving drivers an additional lane in each direction.
Current traffic patterns in the area will remain in place until early next year, when crews will remove the westbound I-10 bridge and finish the job. We're maintaining access to area businesses throughout this important project.