Independence for Maricopa drivers
Independence for Maricopa drivers
By Tom Herrmann / ADOT Communications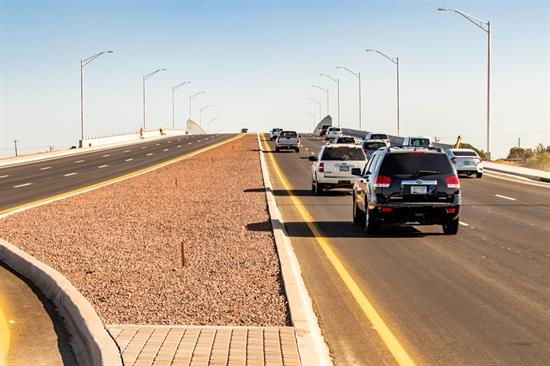 Drivers in Maricopa have something to celebrate: independence from sitting on State Route 347 waiting for trains to pass.
Last week, crews removed the barricades and welcomed the first vehicles on to a new overpass carrying drivers over Maricopa-Casa Grande Highway and the Union Pacific Railroad tracks.
Trains are important to Arizona's economy. They move many goods around our state efficiently. The good people of Maricopa won't dispute that.
ADOT and Maricopa worked long and hard for the overpass and independence from trains that cross SR 347 more than 60 times every day. A $15 million federal TIGER grant is helping pay for the $55 million project, as is a $14 million investment by Maricopa.
Even with traffic flowing on the new alignment of SR 347, we still have work to do. The original alignment of SR 347 will be changed to mesh with the new road. Cul-de-sacs will prevent vehicles from reaching the railroad tracks. Honeycutt Avenue will be extended to connect with the new alignment.
This project improving safety and mobility in a fast-growing community remains on track to wrap up by late this year.