It's wise to plan ahead, even with 2020 a few years off
It's wise to plan ahead, even with 2020 a few years off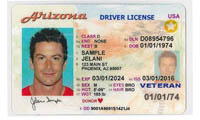 By Doug Nick / ADOT Communications
If you're a wise person, you plan ahead.
It's good advice for most things, especially events like retirement, a major purchase or that once-in-a-lifetime vacation.
Let's stop at "vacation" for a moment. For most, vacations involve some travel, and that may mean flying. And getting to your gate entails the ritual of providing identification that's acceptable to the Transportation Security Administration.
Planning ahead is the wisest course, even if Oct. 1, 2020, is still a few years off.
When that date rolls around, the federal government will require your driver license or ID to be compliant with the federal REAL ID Act if you want to use it to enter a federally controlled facility such as an airport.
Under Arizona law, if you want a REAL ID-compliant driver license or ID, you need to specifically ask for it. At the Motor Vehicle Division, we call it the Voluntary Travel ID, and it's a credential that has a yellow star in the upper right-hand corner.
You can easily get one when you renew your photo, get your first license or want to change from your current credential.
The cost is $25, and you'll need to bring additional forms of ID and proof of residence to meet requirements of the federal law.
For example, you would need a valid passport or birth certificate or permanent resident card; a Social Security card or W-2 form; and two forms proving residency, such as a utility bill, bank statement or voter registration card. The video above has details.
These are just some examples. For a complete list, please visit azdot.gov/mvd. You can also go to tsa.gov for information from the TSA.
Oct. 1, 2020 seems far away, but it isn't too early to start planning. Having that great vacation is special; don't let an ID problem slow you down.