Keep your cool: Prepare yourself and your vehicle for summer heat
Keep your cool: Prepare yourself and your vehicle for summer heat
By David Rookhuyzen / ADOT Communications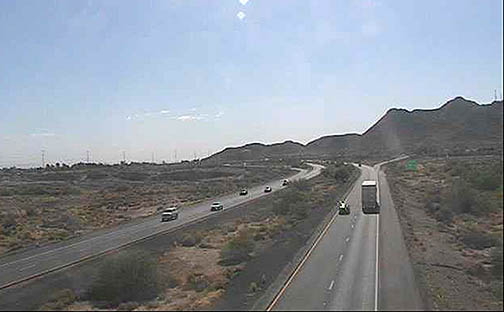 This will not come as a huge shock to anyone, but Arizona gets pretty darn hot in the summertime.
Most of us beat the heat on a day-to-day basis with a combination of air conditioning, swimming pools and ice-cold liquid refreshment. But what if you're between those things or traveling to someplace more temperate? 
It's important for you and your vehicle to be prepared for these potentially scorching summertime temperatures, no matter where you find yourself. Luckily, we have accumulated some safety tips to help you do just that.
First off, make sure your vehicle is at tip-top shape to beat the heat. That includes:
Test your battery, especially if it is past 3 years old. Heat can zap batteries.
Check your coolant levels and top them off if necessary. If you are due for a coolant flush, consider getting that done before going anywhere too far away.
Make sure to also check your oil, transmission fluid, brake fluid and power steering fluid.
Confirm that your tires are properly inflated to reduce the risk of blowouts.
Stock your vehicle with a first-aid kit, jumper cables and safety flares.
Finally, make sure your car's air conditioner is working!
Now that your vehicle is ready to hit the road, remember to be prepared yourself.
Plan your travel route in advance and check the az511.gov Arizona Traveler Information site for travel and weather conditions.
Take along a fully charged cellphone
Bring along plenty of sun protection, including a wide-brimmed hat, sunscreen and an umbrella.
Have a cooler with cold drinking water.
Be prepared with some healthy snacks
If there is a crash or your vehicle becomes disabled, make sure to call for assistence immediately. If possible, find a shaded spot to stop and run your air conditioner until help arrives. 
Given the current public health situation, your summer to-go list also should include hand sanitizer, disinfecting wipes and a cloth face covering.
You can find more tips about how to make sure you and your vehicle can enjoy summer, despite extreme heat, on the transportation safety page of our website. And just keep thinking frosty thoughts until temperatures dip once again!