Keep your pets safe and out of the roadway
Keep your pets safe and out of the roadway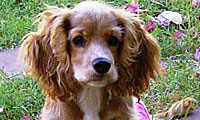 Photo courtesy of Arizona Humane Society
Peyton, an adorable cocker spaniel pup, is one of thousands of pets who strayed onto an Arizona highway this year but among the few who survived.
By Kimberly Noetzel
Senior Community Relations Officer
It goes without saying that pets and highways are a dangerous combination.
Still, thousands of dogs and cats end up on Arizona's highways every year often suffering serious or fatal injuries and contributing to motor vehicle crashes.
That's why we're reminding pet owners always to keep dogs, cats and other animals safely contained at home or properly secured inside your vehicle while traveling.
It's an important message year-round. With the onset of the spring breeding season, however, dogs and cats who are not "fixed" (spayed or neutered) are more prone to stray from home this time of year.
At ADOT, we receive more than 50 calls a month to remove deceased dogs and cats from Valley freeways in the greater Phoenix area. Statewide, the number exceeds 250 calls a month – that's about 3,000 pets a year! That number doesn't include pets struck on local streets and roads, pets no one calls about for removal, livestock or wildlife.
Payton the puppy is lucky not to be among the grim statistics. The tiny cocker spaniel was rescued from Interstate 17 in Phoenix during a recent morning rush-hour commute. 
Despite suffering a severe leg injury, numerous cuts and bruises and several broken teeth, she made a full recovery at the Arizona Humane Society and was adopted.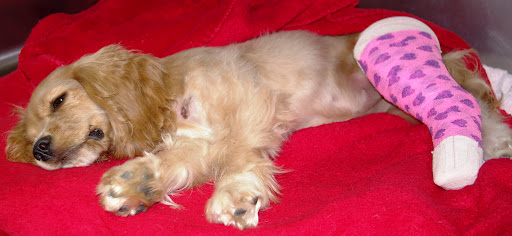 Photo courtesy of Arizona Humane Society
Payton recovers at the Arizona Humane Society after being rescued from I-17. She eventually lost her injured leg, but found a loving new home.
"She was very fortunate," said AHS spokeswoman Bretta Nelson. "Unfortunately, many are not so lucky."
Drivers can also be unlucky when pets end up on the highway.
Crashes occur when motorists hit the brakes or swerve to avoid hitting an animal. Other drivers endanger themselves and others when they stop and attempt a daring pet rescue.
"Dogs and other animals who gain access to the freeway system pose a safety issue for both our officers and motorists. The Arizona Department of Public Safety strongly urges drivers to call 911 when they see an animal in the roadway," said Bart Graves, DPS spokesman. "Motorists should NEVER get out of their vehicles and attempt to chase and capture the animal. By doing so, drivers not only put themselves at risk but will most likely cause serious injury or even a fatal collision."
Pet owners, keep these additional safety and health tips in mind:
Bring pets indoors when they're likely to be frightened and escape the yard, such as during thunderstorms or fireworks events. ADOT maintenance crews in Maricopa County see calls about deceased dogs on the freeways sharply increase after the Fourth of July and New Year's Eve. 
If you cannot bring your pets indoors, be sure your yard is secure, your fence or wall is tall enough, and pets have access to all-day shelter and water. 
Secure pets inside your vehicle while driving. Dogs and cats can jump or fall onto the roadway through open windows or truck beds. Pets who roam freely inside the vehicle can distract your driving and be injured or killed if you stop quickly or are involved in even a minor collision.
Tired of your dog or cat going into "heat" and straying from home? Call your veterinarian or the Spay/Neuter Hotline for info about low-cost services statewide.