Know Snow: By the numbers
Know Snow: By the numbers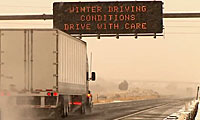 Do you Know Snow?
If the answer to that one is no, you'll learn a lot by watching today's video featuring winter-driving stats. Even if you're a snow expert who has years of experience driving in the stuff, you still might discover something new about ADOT's winter operations…
For instance, did you know ADOT has 200 snowplows in its fleet? How about the fact that new snowplow drivers must complete 60 hours of training?
OK … enough spoilers! We'll let you watch the video to get all the details. After you're done, check out ADOT's Know Snow page for even more information on winter driving, along with safety recommendations and tips to help you prepare for driving in wintry conditions. You can also revisit all our Know Snow blog posts from previous years.