Know Snow: Winter driving stats
Know Snow: Winter driving stats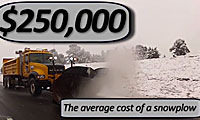 We're wrapping up the week with a new video that shows off some winter driving season stats...
Besides being useful, the information included makes for great trivia. You might consider sharing some of the video's factoids with your friends and family at any upcoming holiday parties you may be attending! Imagine how impressed everyone will be when you announce the exact number of snowplows in ADOT's fleet (there's 214). They'll be wowed when you explain that ADOT has more than 450 employees trained to drive a snowplow (you might even earn bonus points if you go back and review this video on snowplow driver training). You can also tell them that ADOT uses 193 overhead message boards to alert drivers of road conditions.
OK, we'll let you watch the video to get the rest of the details, but before we sign off, let us point you to our "Know Snow" webpage. There, you'll find even more information on winter driving and great tips on how to prepare your vehicle for a wintertime trip, along with info on how to deal with various snowy/icy conditions.
Before you head out on the road, you're also encouraged to call 511 or visit ADOT's Traveler Information Center at az511.gov for the latest information. ADOT's Twitter feed is also a great resource for drivers. Of course, you can always revisit our previous "Know Snow" blog posts and videos. Safe travels!