Lake Havasu City Municipal Airport named 2013 Airport of the Year
Lake Havasu City Municipal Airport named 2013 Airport of the Year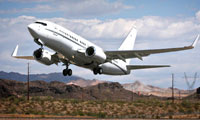 Lake Havasu City has long been recognized as one of Arizona's premier spots for travel and tourism. The city's airport is essential to the flourishing tourism industry, and is now being recognized for its superior service and accomplishments over the past year...
ADOT has named the Lake Havasu City Municipal Airport as the 2013 Airport of the Year. The award was presented to the airport manager and staff earlier this month at the Arizona Airports Association Spring Conference in Page at the Lake Powell Resort and Marina.
"We are thrilled to receive this award from ADOT and to be recognized for our efforts as we serve our customers and our community," said Steve Johnston, supervisor and manager of the Lake Havasu City Municipal Airport. "We are considered a gateway to the region for businesses, tourists and events, and we embrace our role as ambassadors to our visitors. As an airport, our goal is to enhance visitors' positive memories of Lake Havasu and hopefully attract them to return for future visits."
About the airport
Each year, the Lake Havasu City Municipal Airport logs approximately 50,000 takeoffs and landings. It houses 142 aircraft on its 646-acre facility. There are only four full-time staff members who keep the airport running smoothly every day. Many flight-training students from around the world routinely use the airport, and the facility also attracts corporate aircraft flying into and out of Southern California.
Some of the airport's major successes and accomplishments over the past year include: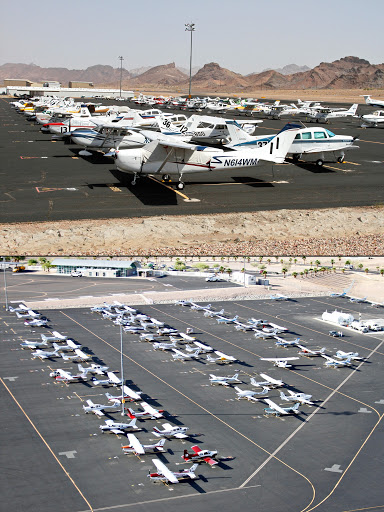 In July 2012, the airport partnered with the Rio-Colorado chapter of The Ninety-Nines, Inc. International Organization of Women Pilots to host the national Air Race Classic and serve as a starting point for this historic race. This event dates back to 1929.
Partnered with a fixed-base operator at the airport in July 2012 to host an international helicopter manufacturing company for certification testing of rotorcraft.
Hosted an Army search and rescue Blackhawk exercise in July 2012.
Partnered with the Air Force Academy to host the Collegian Flight Training Competition in March 2012.
Hosted Luke Air Force Base for an F-16 emergency landing repair and mechanics security effort in September 2012.
The estimated direct local economic impact to the community due to these activities is approximately $194,000.
"We are very pleased to recognize Lake Havasu City Municipal Airport for their exceptional service and commitment to Arizona's system of airports," said ADOT Director John Halikowski. "Tourism is the backbone of the Lake Havasu City economy and the airport plays a vital role in ensuring that everyday operations provide services that meet customers' needs. It's proof that a medium-size airport with a small staff can do great things to attract visitors, businesses, the military and special events."
Aeronautics and airport development at ADOT
While there are 114 airports across Arizona, 83 airports — including 11 privately owned airfields and 14 Native American-owned airports — are identified in ADOT's system of airports. These 83 airports vary in size and serve different functions in meeting Arizona's aviation and economic needs. Arizona's total economic impact from this system of airports is $58 billion annually, according to ADOT research. ADOT works with 65 of the 83 airports throughout the federal and state grant process as part of the Airport Development Program.
ADOT's Aeronautics Group within the Multimodal Planning Division accepts applications and nominations for Airport of the Year. The Aeronautics Group looks at accomplishments in the areas of community relations, airport management, airport maintenance activities, and innovative activities and programs implemented at airports.
Visit ADOT's Aeronautics Group Web page for more information.