Learn about ADOT's Right of Way Group
Learn about ADOT's Right of Way Group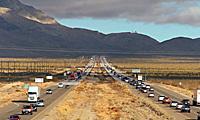 On this blog, we often focus on projects, construction and planning, but we also like to shed a light on the behind-the-scenes work that goes into the development and maintenance of the state highway system...
That brings us to today's topic: ADOT's Right of Way Group.
The Right of Way Group is the real estate organization for ADOT and its primary functions include development of State Transportation Board resolutions, right of way plans, appraisals, property acquisition, condemnation, residential and business relocation, and property management.
Assistant Chief Right of Way Agent Brian Rockwell does an excellent job outlining the group's purpose in the video above.
"Right of way group's main mission overall is to acquire and clear property rights necessary for transportation purposes," he says. "Generally, that's highway right of way, but it could be maintenance camps, it could be facility sites, it could be material pits, anything in the way of real estate that's needed for the department is acquired through the Right of Way Group."
After you check out the video, visit the Right of Way page for more information.