Learn more about the future Loop 101 widening project west of I-17
Learn more about the future Loop 101 widening project west of I-17
By Doug Nintzel / ADOT Communications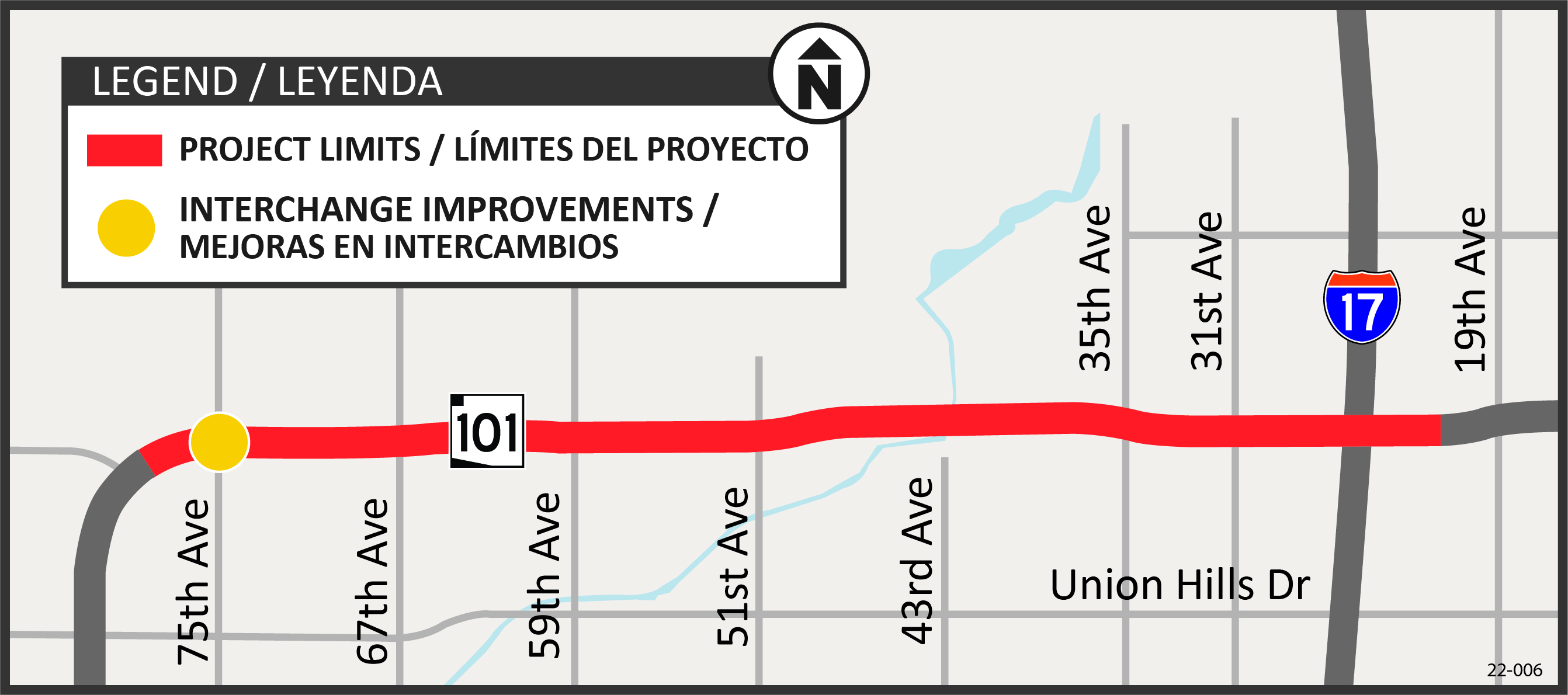 Now that the Loop 101 Pima Freeway has been widened with additional lanes between Interstate 17 in Phoenix and Pima Road in north Scottsdale, ADOT is working with transportation planners at the Maricopa Association of Governments on next steps within MAG's Regional Transportation Plan (RTP). That includes improvements along Loop 101 to the west of Interstate 17. On Thursday, Feb. 24, you can learn more about those plans.
The RTP is essentially the blueprint for freeway projects via Prop 400, which Maricopa County regional voters approved in 2004. Funding includes a half-cent regional sales tax specifically for transportation improvements in the Phoenix area, including freeways.
An upcoming Loop 101 (Agua Fria Freeway) project is designed to add an additional general purpose, or regular, lane in each direction along the freeway between 75th Avenue and Interstate 17. Construction is scheduled to begin as soon as 2023. That of course will be of particular interest to many northwest Valley residents as well as folks to regularly use that part of the regional freeway system.
You can take part in tonight's virtual public meeting about the project. Here are the details for doing so:
What: Loop 101 Agua Fria Freeway (75th Avenue to I-17) project virtual public meeting
When: Thursday, Feb. 24, from 6 p.m. to 8 p.m. 
How To Participate: Details about participating in this virtual meeting via computer or smartphone are available at the project website.
Information for those who are not able to attend the virtual meeting, how to provide comments or get additional details is available on the project website.
In addition to gathering comments and answering questions during the meeting, ADOT also is prepared to receive any other public comments through March 10, 2022.  
In addition to providing new lanes, the Loop 101 project between 75th Avenue and I-17 also will widen bridges, reconstruct interchange ramps, provide upgraded freeway lighting, add sound walls where warranted and make other improvements.