Loop 101 (Agua Fria Freeway), 75th Avenue to I-17 Improvements
Loop 101 (Agua Fria Freeway), 75th Avenue to I-17 Improvements
Overview
The Arizona Department of Transportation, in cooperation with the cities of Glendale, Phoenix and Peoria, the Federal Highway Administration and the Maricopa Association of Governments, has initiated a project to widen and make other improvements to the Loop 101 (Agua Fria Freeway) between 75th Avenue in Glendale and Interstate 17 in Phoenix. The project seeks to address growing traffic demands in the northwest Valley and relieve traffic congestion on the Loop 101 during the morning and evening peak travel periods. The project will connect with the Loop 101 Pima Freeway widening project east of I-17, completed in 2022.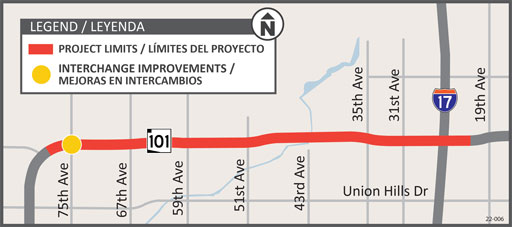 Project Elements
Widen Loop 101 by one general purpose lane in each direction to the outside within the existing freeway right of way
Restripe the westbound Loop 101 ramp to northbound I-17 to add another lane
Widen bridges at 51st, 35th and 31st avenues to accommodate new lanes on Loop 101
Widen exit ramps to two lanes and reconstruct ramp connections to new freeway lanes in several locations 
Widen frontage roads to two lanes approaching exit ramps in several locations to improve traffic flow   
Modifying interchange ramps and retaining walls to accommodate the freeway widening
Interchange and cross street improvements at 75th Avenue, to include:

Add capacity and improves traffic flow for morning peak travel
Add a third turn lane on southbound  75th Ave to enter eastbound Loop 101
Lengthen southbound left turn bays to allow more vehicle storage (requires closing median opening)
Add a lane on eastbound Loop 101 on-ramp
Add a lane on eastbound Loop 101 between 75th and 67th Ave to provide more distance for vehicles entering or exiting the freeway
Interchange design strongly preferred by community members versus other design alternatives based on a community survey
Improve the 67th Avenue ramp

Accommodate additional auxiliary lane from 75th to 67th Avenues with a two-lane exit ramp. Modify ramp and frontage road configurations in some locations, reconstruct ramp connections to new freeway lanes
Add or modify noise walls in some locations based on noise analysis

Resurface pavement on freeway with diamond grinding treatment

New freeway striping and signage on freeway

New ramp meters

Freeway drainage improvements

Convert existing freeway lighting to LED

Replace impacted landscaping. 

New noise walls locations:

47th - 44th avenues (south side) to connect to existing wall between 51st and 47th avenues

36th - 34th avenues (south side) to extend sound barrier protection through the 35th Avenue bridge

35th – 31st avenues (north side)

Existing noise wall modification locations:

51st - 47th avenues (south side)
43rd to 37th avenues (south side)

New/modified walls to have same design aesthetics as current walls
Schedule
The project is currently in the design phase
Per current program funding, project construction is anticipated to begin in fall of 2024
PUBLIC MEETING - The project team presented information and answered questions about the design plans for the Loop 101 widening project at a virtual public meeting held the evening of Thursday, Feb. 24, 2022. A video recording of the meeting and other project information can be found under the Public Meetings tab. 
Noise Reports
 Stay Up to Date

Please subscribe to receive project updates by email.
Submit questions and comments or request information in any of the following ways:
By Phone: ADOT Project Information Line: 855.712.8530
Línea de Información del Proyecto ADOT: 855.712.8530
Online: Visit azdot.gov/contact and select Projects from the drop-down menu
By Mail: ADOT Communications, 1655 W. Jackson St., MD 126F, Phoenix, AZ 85007