Let the professionals handle dogs and other animals on freeways
Let the professionals handle dogs and other animals on freeways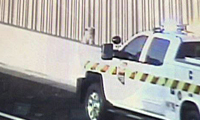 By Peter Corbett / ADOT Communications
When dogs scamper onto or next to freeways, it's dangerous for all concerned.
Drivers taking evasive action or trying to collar a scampering dog can lead to tragic outcomes. That's why it's best to call 911 and leave dog-catching to professionals – troopers from the Arizona Department of Public Safety and Arizona Department of Transportation staff.
The same goes for other animals or debris on the roadway. Get off the highway to safely call 911 to report road hazards. It's safer for everyone that way.
Frightened dogs on the highway are evasive and nabbing them is a challenge. In some cases, DPS and ADOT will temporarily block traffic to ensure their safety and make it easier to collar the dog or coax it into a vehicle or off the freeway.
It's a helpless feeling watching dogs on the freeway from a vehicle or on ADOT's camera, but in many cases authorities are able to save the animals and get them back to their owners. We have witnessed many rescues, from dachshunds to ducklings.
We have some additional tips on how to ensure your pet never gets loose on a freeway.