Lighting the way. ADOT converting I-10 Deck Park Tunnel's lights to LED
Lighting the way. ADOT converting I-10 Deck Park Tunnel's lights to LED
By Doug Nintzel / ADOT Communications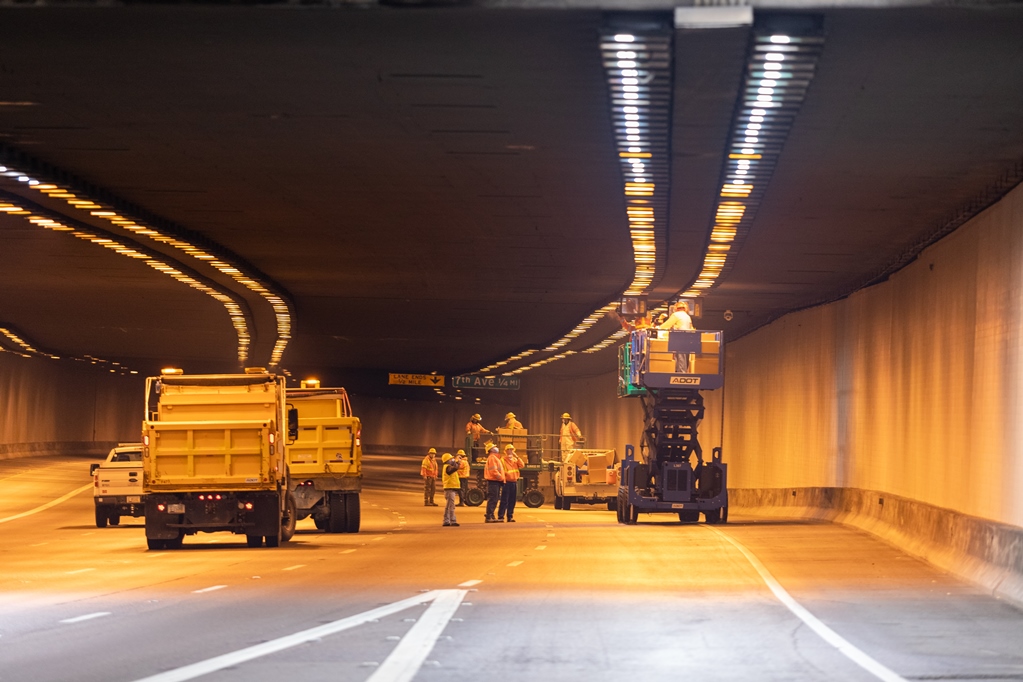 It's definitely a case of "out with the old and in with the new" when it comes to the lighting system inside the Interstate 10 Deck Park Tunnel north of downtown Phoenix.
The Arizona Department of Transportation has been pursuing a project to replace the original tunnel lighting system for several years now. After all, the Deck Park Tunnel opened to traffic in August 1990 and the old style high-pressure sodium lighting system has been in use for all the 30-plus years since. An upgrade has been much needed.
Following consideration of various project ideas over time, enough funding was identified for a $1.4 million project that is now underway. New LED lighting fixtures are being installed, over the course of the next few months, to replace the old fixtures that held the sodium lights.
A test installation was done with a small section of lights last year and more of the new lights were put in during January above the westbound I-10 right lane within the tunnel. In fact, you might have noticed the "whiter" LED lights that are in versus the "yellow/amber" glow of the old lights.
The project team anticipates needing several Friday night closures of I-10, in either direction, over the next few months in order to change out the more than 3,200 fixtures that help light the way when you're traveling through the tunnel.
The new LED lights are energy efficient and can be expected to last well over twice as long as their sodium predecessors. The anticipated annual energy savings are more than $175,000. Those savings will over time help pay for the cost of installing the new system.
So be prepared for ADOT to let you know which Friday nights will be used for closures so the lighting improvement work can advance this spring. Our Weekend Travel Advisory is a good thing to subscribe to via azdot.gov/Subscribe.
At age 30, the Deck Park Tunnel is getting a new look and you'll notice a difference. As some experienced models might tell you – it's all about the lighting.