A little pavement means a lot for the South Mountain Freeway
A little pavement means a lot for the South Mountain Freeway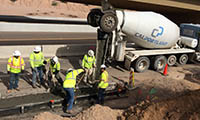 By Dustin Krugel / ADOT Communications
It isn't a lot of pavement when you think of the 22 miles of Loop 202 South Mountain Freeway that are to come, but a milestone happened recently when crews began pouring concrete to widen lanes of eastbound Pecos Road between 48th Street and the Loop 202 Santan Freeway at Interstate 10.
Laid along a half mile, it's the South Mountain Freeway's first new pavement.
It's part of preliminary construction that began in late September to widen the shoulders through the I-10/202 interchange and extend the Santan Freeway high-occupancy lanes.
With the aid of a concrete paving machine, workers methodically poured and finished the concrete along the eastbound shoulders. Once the concrete cures, ADOT will add curb and gutters, place the barrier wall and restore embankment landscaping was disturbed during construction.
ADOT will return next month to perform similar work in the median.
Construction of the South Mountain Freeway begins early next year, and motorists will be able to begin using it by late 2019.