Live from the ADOT Sign Shop
Live from the ADOT Sign Shop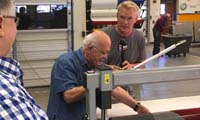 By Caroline Carpenter / ADOT Communications
Nearly a year ago, the ADOT Sign Shop hosted ADOT Director John Halikowski as he learned what it takes to make all of the signs that you see along state highways, at rest stops and in MVD offices. Earlier this week, the ADOT Sign Shop offered the same experience to an area newscaster – on live TV.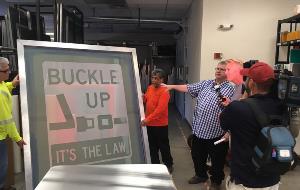 Fox 10's morning show weatherman Cory McCloskey broadcast showed viewers how the crews make a stop sign. The shop produces about 500 of those per year, and that's only a small percentage of the thousands of signs produced annually.
ADOT maintains about 500,000 signs around the state. They last an average of 10-15 years and are replaced when they become weathered, hard to see or no longer meet current standards.
Besides going through the sign-making process, McCloskey was also able to see a variety of signs made by the shop including wrong way signs, scenic highway markers and seat belt safety signs.
You may be wondering who was better at making signs, ADOT Director John Halikowski or Fox 10's Corey McCloskey? That's a secret we'll never tell, but you can check out the director making signs on the Inside ADOT YouTube page and get McCloskey's take on his visit.