Local foundation focuses on bicycle safety while honoring a cyclist lost in tragic crash
Local foundation focuses on bicycle safety while honoring a cyclist lost in tragic crash
By Doug Nintzel / ADOT Communications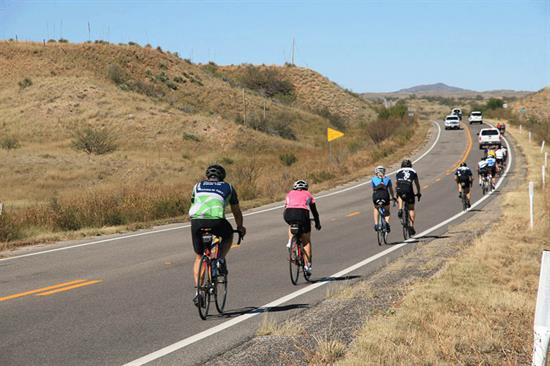 Safety should always be top of mind when it comes to all modes of transportation. It's why we work to constantly remind drivers to be smart about speed limits - to obey them and not be an excessive speeder; to stay alert and avoid distractions, put down that phone; and to never drive while impaired. 
The list of safe driving tips is much longer, of course, and most of them involve common sense. As we approach late October, let's also focus on the safety of those who we share the road with: bicyclists.
On Sunday, Oct. 24, the Rob Dollar Foundation will be holding its annual ride for bicyclists at South Mountain Park in Phoenix in order to place a spotlight on cycling, driving and roadway safety. The event is held in the name of Rob Dollar, an avid cyclist whose life was cut short when he was struck by a vehicle in Oct. 2017.
Here are some of the things the foundation lists on its website about drivers safely sharing the road with cyclists:
Give 3 Feet - It's the Law. When passing a cyclist, 5 feet of distance is preferred while 3 feet is the minimum.
Respect the Bike Lane. Never enter a bike lane except in instances when you need to turn, enter or leave the roadway or park. Always yield to cyclists when you cross a bike lane.
Check Blind Spots. Looking over your shoulder and checking your side-view mirror are strong habits to help avoid a collision with a cyclist. Be extra attentive when turning right as bicyclists tend to ride on the right of traffic.
Use Turn Signals. Signaling that you intend to turn alerts bicyclists and other roadway users of your course of travel. The law requires you to signal at least 100 feet before you make your turn.
Mind the Door Zone: Take care when opening a door into a bike lane or street so as not to hit a passing bicycle rider with your door.
At ADOT, our True North is Safely Home. Each day, each week and every year, we hope that you will strive to be an alert and safe driver, motorcyclist, bicyclist and pedestrian. Our goal remains to provide a safe state highway network for all users. For more information about cycling and pedestrian safety visit activetransportation.az.gov.  
For more information about the Rob Dollar Foundation visit RobDollarFoundation.org.