Loop 101 drivers are urged to slow down in the work zone
Loop 101 drivers are urged to slow down in the work zone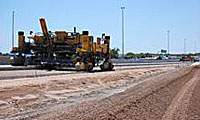 If you've been following along with us, you know that we've been covering the Loop 101 widening project since work started last summer.
We've given you updates, shared a cool time-lapse video and even told you about that time an ASU class came to visit the site.
One thing we haven't covered yet is speed. No, we're not talking about the speed of the project's progress (we actually have covered that – work currently is on schedule to wrap up late next year). We're referring to the speed at which motorists are driving through the project's work zone…
Crews have noted that not all drivers are slowing down to the reduced 55 mph speed limit. ADOT Transportation Engineering Specialist David Locher says the data shows that some vehicles are actually averaging about 70 mph through the area.
Work Zone Safety tips
Expect the unexpected. Normal speed limits may be reduced, traffic lanes may be restricted and people may be working on or near the road.
Slow down! Speeding is one of the major causes of work-zone crashes.
Keep a safe distance. The most common type of accident in a work zone is a rear-end collision. Maintain two car lengths between you and the car in front of you as well as road crews and their equipment.
Pay attention. The warning signs are there to help you move safely through the work zone. Observe the posted signs.
Obey road crew flaggers. The flagger knows what is best for moving traffic safely in the work zone. A flagger has the same authority as a regulatory sign. You can be cited for disobeying a flagger's directions.
Stay alert and minimize distractions. Dedicate your full attention to the roadway and avoid changing radio stations or using cell phones while driving in a work zone.
Keep up with traffic flow. Motorists can help maintain traffic flow and posted speeds by merging as soon as possible. Do not drive right up to the lane closure and then try to barge in.
Check road conditions before you travel. Schedule enough time to drive safely and check for traffic information by calling 511 or by logging on to az511.gov.
Be patient and stay calm. Remember, crews are working to improve the road and your commute.
Slow down in the work zone!
Crews need space to work, but instead of closing an entire lane through the work zone, ADOT opted to narrow each of the existing lanes to help keep traffic moving during the project.
"A typical lane is 12 feet wide and we've narrowed it to 11 feet wide," Locher explains. "On top of that, we don't have a shoulder during construction, so even the minor flat tire can become a back-up and there's little room to maneuver if there is an accident."
So, what should drivers do?
Department of Public Safety Spokesman Bart Graves reminds drivers that they have to slow down and obey all signs/warning devices in work zones – not only for the well-being of construction crews, but for their own safety.
"It's really important that the motorists slow down and approach that area carefully" Graves said.
For more information on how to safely maneuver through work zones, please visit our Work Zone Safety page.