Loop 303/I-10 Traffic Interchange project progresses
Loop 303/I-10 Traffic Interchange project progresses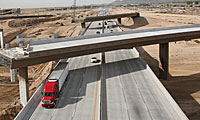 It's really remarkable to see the progress of projects like the one above, isn't it?
We've been following this one – the Loop 303/I-10 Interchange – since ADOT started construction two years ago. Right now, work is about 65-70 percent complete and crews are slated to wrap things up by fall 2014.
When the project is finished, drivers will get a freeway-to-freeway connection between Loop 303 and I-10 (it will look similar to the Loop 101/I-10 interchange in Tolleson and Avondale for those of you familiar with the West Valley).
You can read more details in this blog post about the project's start. You can also take a look at what the project site looked like a year ago in this February blog post (it's come a long way!).
If you're interested in the adjacent Loop 303 project (we've blogged plenty about that one!), stay tuned next week – we have a video update coming your way!