In Maricopa, "a beautiful friendship" leads to an important project
In Maricopa, "a beautiful friendship" leads to an important project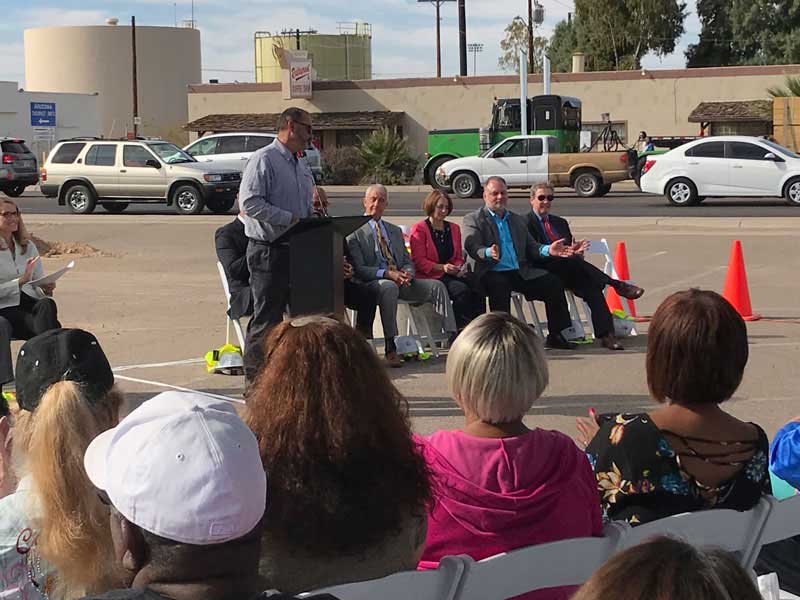 By Tom Herrmann / ADOT Communications
Maricopa Mayor Christian Price is used to pausing for trains. Usually he's in his car, driving from his home south of the Union Pacific Railroad tracks (see the video above) to City Hall or to one of the businesses in his booming city.
Monday morning, the mayor smiled as he paused at the sound of a train passing nearby. He was speaking to more than 150 people at the groundbreaking ceremony for a bridge that will carry State Route 347 over those railroad tracks. When the work is complete in late 2019, no one in Maricopa will have to pause for the 60 or so trains that run through the area every day.
"You can't get to economic development if you don't have roadways," Price said. "That's what's starting here today. I can tell you want's happening in this city. We have hotels that are interested in coming here. Businesses are growing. All of this is working to better this community."
Maricopa has been working with ADOT, the Federal Highway Administration and others since its incorporation as a city in 2003. All the work by current and former mayors and City Council members is culminating in work on the bridge, the mayor said.
Work on the $55 million project will begin shortly.
ADOT Director John Halikowski joined the group taking part in the ceremonial groundbreaking (see below), as did Dallas Hammit, ADOT's state engineer and deputy director for transportation, who's speaking in the photo above.
"Our mission is to provide a safe and efficient transportation system," Hammit told the audience, "and working together with the city of Maricopa, FHWA and others, that's what we're doing here in Maricopa."
Maricopa Vice Mayor Marvin Brown looked to Hollywood as he talked about the partnerships needed to make this build the bridge, which will reduce delays on SR 347 and make the road safer.
"I believe this is the beginning of a beautiful friendship," he said.