Maricopa overpass will also improve connection to Casa Grande
Maricopa overpass will also improve connection to Casa Grande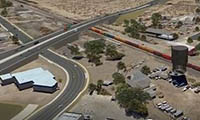 By Tom Herrmann / ADOT Communications
It's no surprise that the greatest impact from the new overpass coming to State Route 347 in Maricopa will be for drivers, from commuters to students and teachers at Maricopa High School, who use SR 347 every morning and evening.
But the overpass and related roadway changes will also significantly benefit those who travel the 21 miles between Maricopa and Casa Grande.
For drivers entering Maricopa on Maricopa-Casa Grande Highway, the road will turn north just west of the Maricopa Unified School District offices. Drivers will go north to Honeycutt Road, then west to join SR 347.
For those going the other direction, there will be no more waiting for a green light at Maricopa-Casa Grande Highway. Instead, drivers will follow the road first to the right of the road's current alignment, then left under the overpass and on their way to Maricopa neighborhoods or Casa Grande.
The $55 million overpass will be built largely on a new alignment east of the current roadway to minimize the impact on the community. Initial work is set to begin Monday, with completion scheduled for fall 2019.