Marine mom honors son by adopting a stretch of State Route 79
Marine mom honors son by adopting a stretch of State Route 79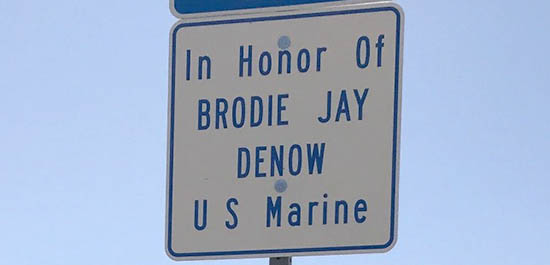 By Mary J. Currie / ADOT Communications
Evelyn Oneil, a Marine mom and a community servant to the core, is the volunteer behind a State Route 79 Adopt a Highway sign north of Florence reading:
In Honor Of
BRODIE JAY DENOW
U S Marine
I had the pleasure of speaking with Evie when she contacted me to learn whether her new Adopt a Highway sign would be installed by April 1, in time to honor her late son's birthday.
Quick action taken by Jeffrey Minefee and Susie Puzas, permits supervisors in ADOT's Southeast District, made this happen. I was intrigued by this mom's dedication to her son's memory and wanted to learn why she was motivated to honor him at this milepost, and this stretch of Arizona desert.
Evie, as she is fondly known, granted me an interview. She insisted that she did not have a unique story, but I knew it would mean so much to share it with others.
She told me that Brodie loved the environment and the outdoors. He was born in Seymour, Wisconsin, served during 9/11, and his specialty was fire and rescue. He quickly rose to the rank of sergeant and served four years stationed at Quantico, Virginia.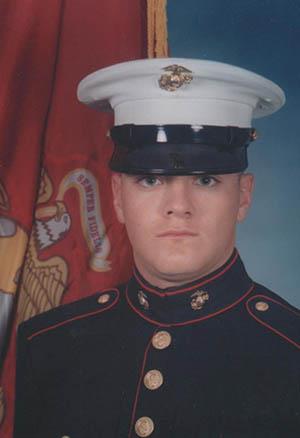 Evelyn recalled details Brodie shared about a rescue mission in which he saved a pilot whose plane lost its brakes and ended up in a pond at the end of the runway. Brodie rushed into action, swimming out to save him. "He wasn't one to sit on the sidelines," she said.
Evelyn is a full time RVer, wintering near Florence from October to May and spending summers in east Glacier National Park in Montana. She spent time cleaning bathrooms in that park and found herself expanding her love of community service by picking up litter along the roadways, finding a lot of cigarette butts and a few interesting items along the way.
Late last year, Evelyn noticed an Adopt a Highway sign while driving along SR 79. As she thought about it and noticed mile markers 144 and 145, it made sense to her what she needed to do next. The numbers correlated with Brodie's birthday, 4/1, and her birth year, '54, while Route 79 correlated with the year she married Brodie's dad. She went to the local ADOT office, where she learned that mileposts 144-145 were available for adoption.
Evelyn gathered friends to pick up litter along this stretch. She said once they start volunteering it's almost contagious and they realize how much they enjoy doing it. She wishes we could encourage more people to get out and help keep our highways clean.
If you are out driving in Pinal County, just south of Florence Junction, please take a moment to salute a brave young Marine who was committed to serving his country, and the Marine mom who continues his legacy by keeping Arizona, and wherever she may travel, litter-free.
---
EDITOR'S NOTE: The author oversees ADOT's Adopt a Highway volunteer program.