Memorial at Sunset Point honors fallen transportation workers
Memorial at Sunset Point honors fallen transportation workers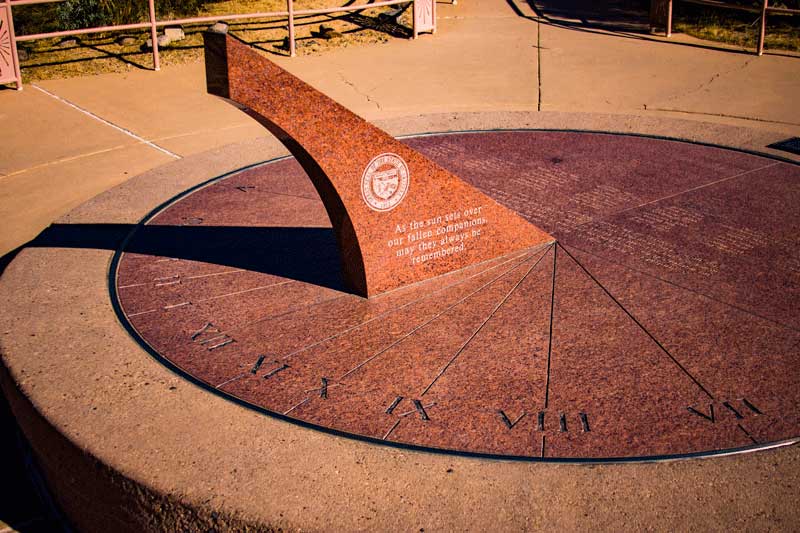 By Lori Baker / ADOT Communications
Sunset Point is the busiest of ADOT's rest areas, serving as a way station for 900,000 drivers on Interstate 17 a year. In service since 1966, it offers weary travelers bathrooms, drinking fountains and covered ramadas along with breathtaking views across a valley toward the nearby Bradshaw Mountains.
The rest area also has a sundial that serves as memorial for ADOT employees who have died while serving the state of Arizona.
Installed in the summer of 1997, the sundial came from a contest among ADOT employees. It was chosen as the winning design because of its enduring symbolism. On the gnomon (the blade that stands vertically to create the shadow) is inscribed the words, "As the sun sets over our fallen companions, may they always be remembered."
On the base is another inscription: "A sundial is a living object. It needs no winding and is driven by no weight. It has something to say and it says it. It speaks about time never ceasing to recall the flight of time, its tragedy and irreversibility for men. The thoughts arise of earth, and the end of everything, of eternity, of the world beyond."
The location was chosen for the same reasons that make the rest area popular: the scenic views and a large number of visitors.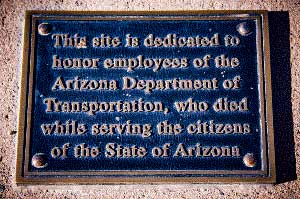 When originally installed, the names of 27 ADOT employees were engraved on it. Seven more have been added over the past two decades.
The most recent addition was the name of Robert Danzo, who died earlier this year while on duty at a Tempe maintenance yard. During his 13-year career with ADOT, Danzo helped maintain state roadways by repairing or inspecting pavement, guardrails, fences, drainage channels and bridges as part of the Infrastructure Delivery and Operations Division.
Next time you stop at Sunset Point, either for a quick break or just to take in the view, we hope you'll check out this one-of-a-kind memorial.